The Internet of Things is everywhere these days – from the smart devices in our homes to the QR codes we now see in advertisements.
However, there are still many untouched areas in IoT marketing. Here are six IoT marketing examples to inspire you to research all the ways you can leverage the technology in your strategy.
How does the Internet of Things work in marketing?
The Internet of Things is the connection of everyday products such as cars, alarm clocks and lights to computing devices via the Internet. It allows them to exchange data with each other, giving marketers more context about how their customers' products are being used.
This in turn enables marketers to deliver more relevant messages and increase customer engagement.
For example, if your milk runs out or goes bad, an internet-connected refrigerator can recognize your needs and display a message on its screen or on your phone about the best milk deals in town. If the refrigerator company partners with a grocery store, you can even order cartons through one of those devices.
As IoT technology connects the internet with the ubiquitous objects in our daily lives, marketers in nearly every industry will be able to reach consumers at every stage of the customer journey.
IoT Marketing Examples
1. Coinbase's Super Bowl ad
Every year, brands spend millions of dollars on 15- to 60-second ad spots during the Super Bowl.
When cryptocurrency trading platform Coinbase shared its ad during the 2022 Super Bowl, some viewers were baffled, while others were mesmerized.
Their one-minute ad shows a QR code bouncing off a black screen, reminiscent of the "DVD" logo on old TVs – with spooky background music.
When viewers place their smartphone's camera on the QR code, they're directed to the platform's website, where they can earn $15 for signing up and downloading the app.
QR codes are considered a gateway to IoT devices, allowing brands to find creative but affordable ways to market their products and services.
The ad was so successful that the site crashed.

Image Source
2. The Closer by Heineken
In June 2022, beer company Heineken launched a campaign inspired by employees working from home and struggling to disengage from work after the pandemic.
The company announced that they will be holding a giveaway on June 8 to send consumers a Bluetooth-connected bottle opener that closes the work app when in use.
Using IoT technology, the "Closer" will use an accelerometer to detect the opening of the bottle, communicate with the user's device via Bluetooth, and close the selected work app.
In a press release, the brand's global head of brand Bram Westenbrink said the device is designed to address work-life imbalances.
"In the wake of the COVID-19 pandemic, the once-strict boundaries between work and personal time have rapidly deteriorated, and we hope to spark a much-needed conversation on the importance of resisting social pressure to keep busy at work and encouraging workers to re-emerge around the world. Schedule social and leisure time with the people who matter most."
The giveaway lasted only one day, and the second half of the event involved an online "calendar closer," in which users schedule a meeting with up to three friends to get $5 for a beer purchase and another giveaway.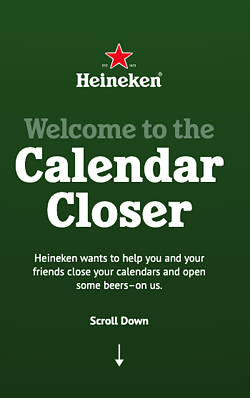 Image Source
This multi-level event showcases how creative brands can get into IoT marketing.
3. Walgreens' IoT Ad Display
In 2019, Walgreens began testing digital refrigerated doors, which will be advertised to store customers, in partnership with brands like MillerCoors and Nestlé that are willing to test their products.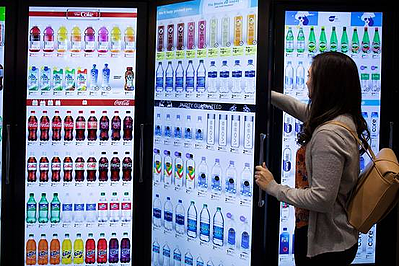 Image Source
Here's how it works: Sensors and cameras located inside the cooler will be paired with facial-detection technology to determine what to market to shoppers based on age, gender, weather, and more.
For example, young people can be shown soda while older people can be shown beer. For beer company MillerCoors, the test looks promising.
A senior marketing manager at MillerCoors said in a statement that one of the biggest hurdles they face is that shoppers don't know they can buy beer at the drugstore. Targeted advertising like this can significantly increase sales and provide more insight into consumer behavior.
This marketing strategy offers a unique opportunity to market to consumers at the point of purchase, unheard of in an offline environment.
4. Diageo
In 2015, Diageo, a leader in the beverage alcohol industry and IoT marketing, announced the launch of smart wine bottles.
Here's how it works: With every purchase of a Johnnie Walker Blue Label bottle, the user receives a personalized message, and the consumer uses their smartphone to read the printed sensor label.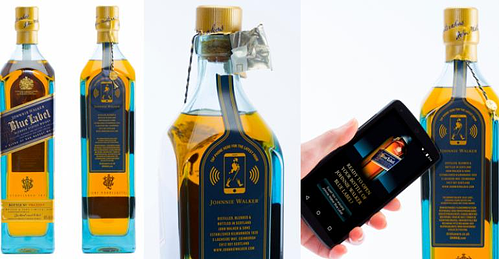 Image Source
The brand says its goal is to enhance the consumer experience and make it easy to send targeted and timely marketing messages.
This is a great example of how you can boost your relationship with consumers after they make a purchase. Often, brands focus their resources so much on acquiring customers that they don't think about post-purchase marketing strategies.
5. Alan Soley
It's not uncommon for brands to ask a client to tweet something, but unless the client feels he's getting something in return, that request usually doesn't get much excitement or energy.
Using the Internet of Things, connecting social media hashtags and product giveaways may be easier — and more fun — than ever before.
Apparel brand Allen Solly has created an interactive shirt billboard in Bangalore, India.
When a user tweets #RainingSolly, a computer connected to the billboard selects a solenoid (a coil wrapped around the back of the shirt) to push the shirt off the billboard, allowing a random consumer to win.
Allen Solly found a unique way to encourage consumers to share their brands on social media, while empowering people to engage with the community in person.
6. Nivea
Print advertising and IoT technology may feel like two different ends of the marketing spectrum – past and future. But they may not be.
Nivea Sun Kids has launched a campaign that combines the two by offering bracelet strips in a Brazilian magazine print ad that parents can peel off and put on their children's wrists.
The bracelet has a built-in locator, and when used in conjunction with Nivea's mobile app, parents can set the maximum distance their child can walk. If the child exceeds the maximum distance, the app will notify the parent. Radar also shows whether the child is approaching or moving away.
Likely to encourage word-of-mouth advertising among Brazilian parents, Nivea's creative campaign also showcases the brand's thoughtfulness and innovation.
We've only scratched the surface when it comes to IoT marketing. While some strategies require more resources than others, there are many affordable and creative ways brands can incorporate IoT into their marketing strategies.
Editor's Note: This article was originally published in July 2018 and has been updated for completeness.