Structured data is the code on your website that interprets and organizes page content. The image below is an example of structured data.
Image Source
Structured data is relevant to SEO and marketing because it helps search engines understand your content and website. When your website content is optimized using structured data, you will gain more visibility of your website pages in the SERPs.

Given its impact on SEO, you need to make sure to optimize your site's structured data. Below we'll recommend some high-quality structured data testing tools and explain how to fix bugs you find during testing.
Structured Data Testing Tool Preview
1. Rich Results Test
Google's rich results testing tool analyzes structured data on your desktop and mobile website pages to ensure it supports rich results. It specifically tests special features of the Google SERPs, so it's crucial if you're optimizing your site for Google search results.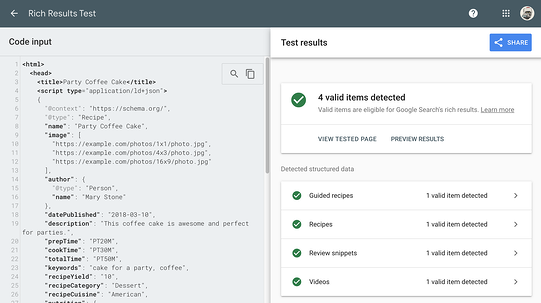 Image Source
To use it, just paste the URL or code snippet and click test, the results will show any errors and explain how to fix them.
2. JSON-LD Playground
JSON-LD Playground tests your structured data syntax against the JSON standard to ensure its correctness. To use it, just enter your structured data markup code and you will get a detailed report.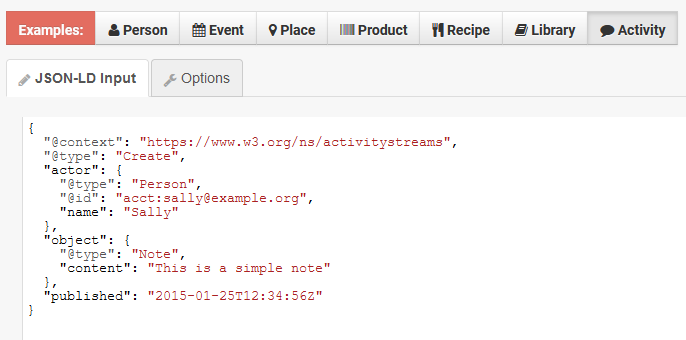 Image Source
The tool also shares example code structures for specific categories, such as recipes or people, that you can use to model structured data.
3. Schema.org
Schema.org checks the syntax of structured data to ensure that it conforms to standard schema markup requirements. While Google's Rich Results Test focuses more on Google SERP features, the tool checks for all possible pattern tags, for example, the correct structure of a restaurant website.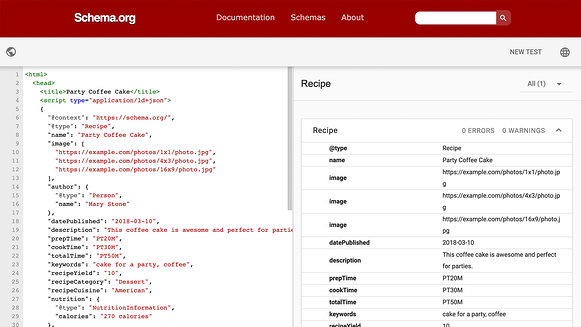 Image Source
To use it, paste your code snippet or URL and click Run Test. Your results will point out any errors and let you know how to fix them.
4. Bing Tag Validator
Bing's Markup Validator analyzes your site's structured data for markup errors and makes recommendations on how to improve it. If you're optimizing your site for the Bing SERPs, this is the site to use. Hovering over any issue brings up a dialog with instructions on how to fix the issue.
Image Source
5. SEO website check
SEO Site Checkup's structured data test analyzes your structured data for compliance with the HTML microdata specification. To use the tool, just paste the URL of the page you are examining and run the test.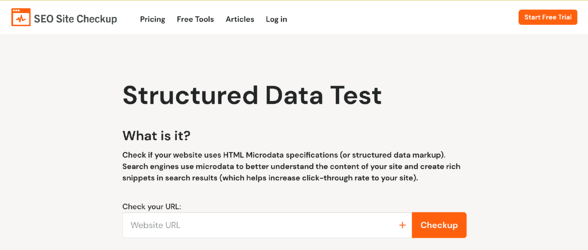 Image Source
The results show the total number of errors, the suggested priority of fixing them, and links to guides that can help you resolve the issue.
6. Email Tag Tester
Google's Email Tag Tester analyzes your email's HTML to verify that it conforms to standard specifications. To use it, just paste the code into the text box and click Validate. If there are any errors, the tool will bring them up for you to fix.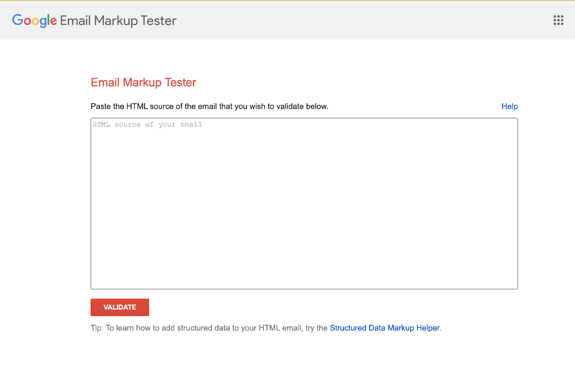 Image Source
7. RDF Converter
RDF Translator validates different types of structured data formats to ensure your site is set up correctly. To check your code, just paste your site URL or code snippet and click Submit.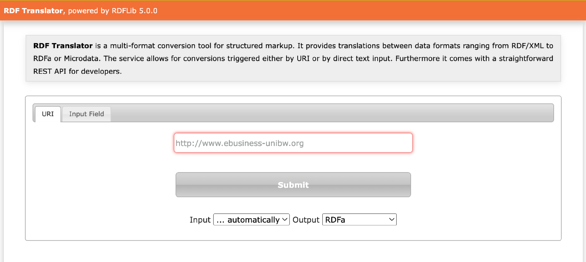 Image Source
8. Search Console Structured Data Report
The Search Console Structured Data report gives you an overview of your structured data, including the total number of active elements, active elements with warnings, and errors. If you click on a report line that contains an error, the tool will tell you exactly what the error is so you can fix the problem.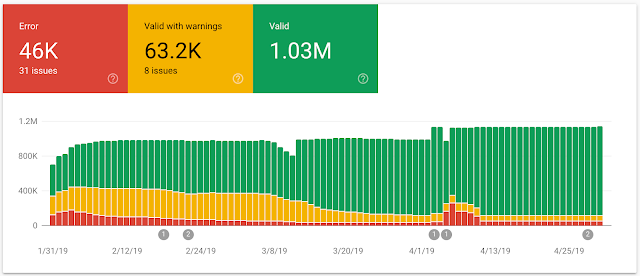 Image Source
structured data generator
9. Markle's schema tokenizer
Merkle's schema markup generator helps you generate accurate structured data for your website and website pages. You can create well-formed schema markup for articles, events, FAQ pages, and more, ensuring your site is SERP-friendly.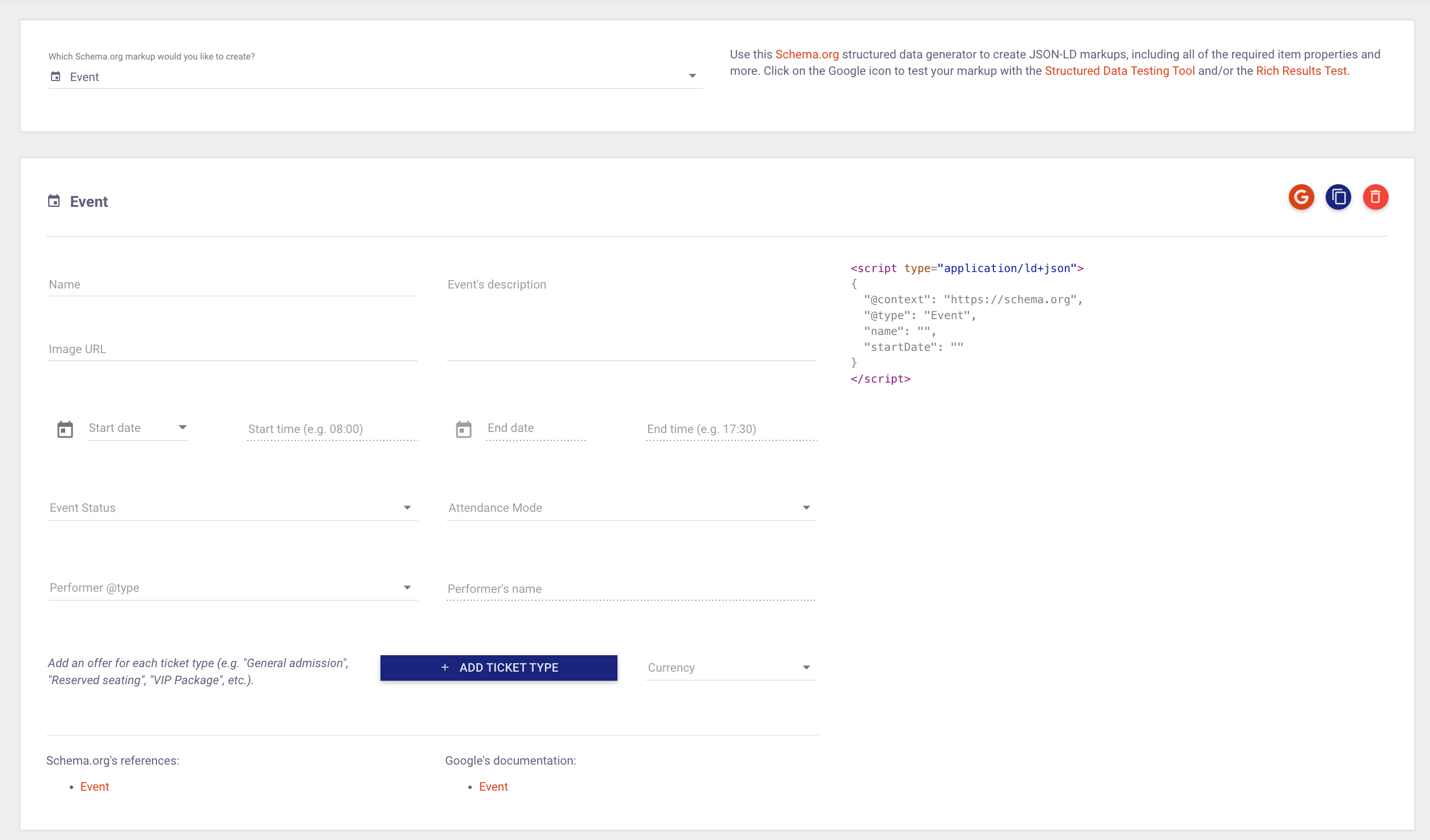 Image Source
Just select the schema you need, enter your information, and copy and paste the code to your website.
10. Structured Data Markup Helper
The Structured Data Markup Helper helps you create Google-compliant structured data. All you have to do is paste your URL into your website or email HTML, select the type of data you entered (ie job posting), and click the start tag.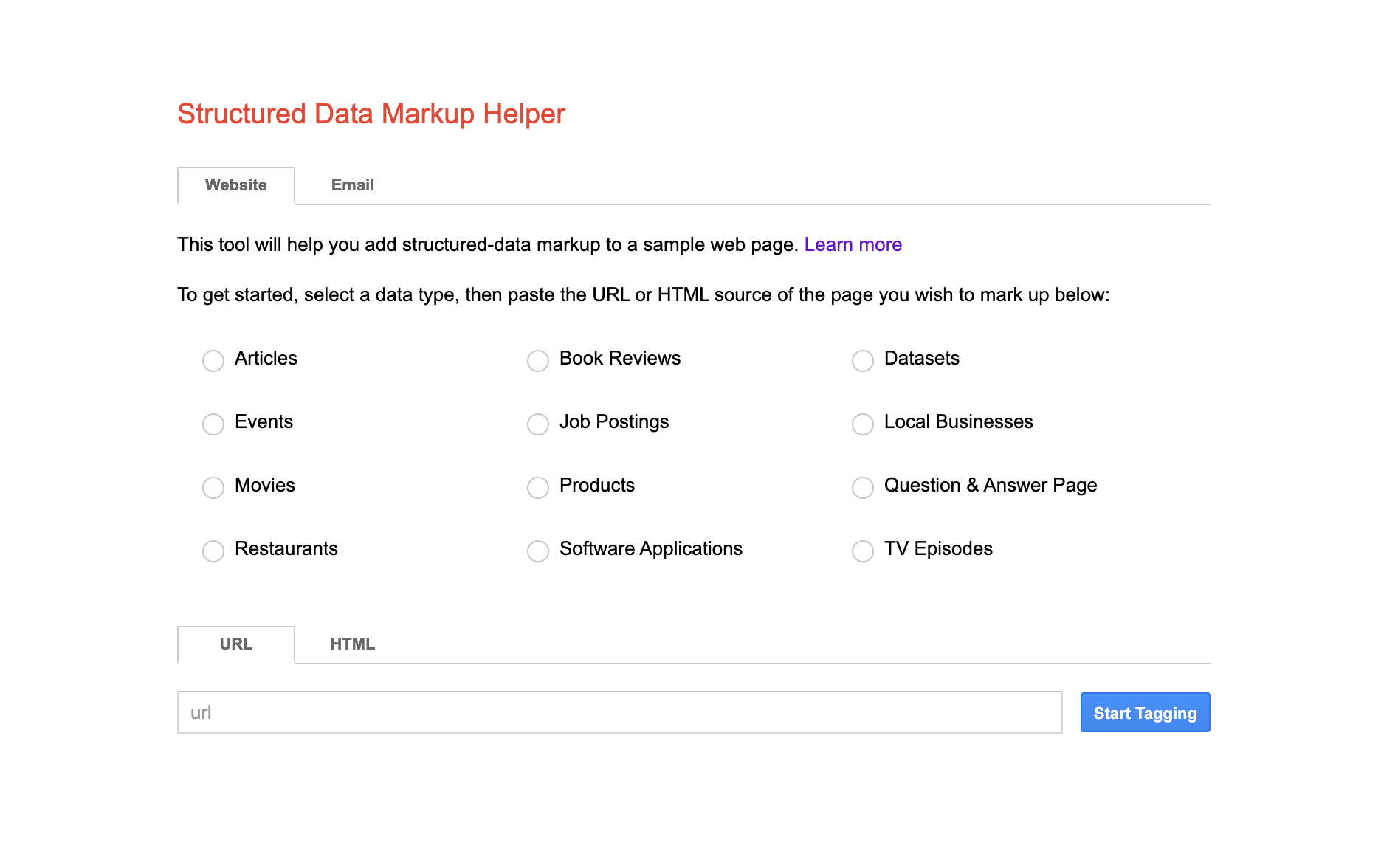 Image Source
The tool then gives you structured data with the right tags that will display your content in the SERPs.
How to fix bugs found with testing tools
If you encounter errors when testing structured data, fixing them is critical to ensuring your site appears in the SERPs. Many structured testing tools offer advice on how to eliminate errors in structured data, and below we'll cover some key steps to remember.
1. Fill in the missing fields.
Some of the most common errors you might see are missing fields. This usually means that you have an element in your structured data that doesn't have a corresponding field to explain what the data is. For example, if you were missing the publication date in the structured data for a news article, you might see:
Missing: release date
You can fix this error by simply entering the release date.
2. Prioritize those with the most errors.
After testing structured data, your tool may alert you to the types of data that contain the most errors. You need to fix these first, as bugs in them can lead to subsequent bugs that will resolve themselves once those bugs are fixed.
3. Repair manual operation.
Manual action is when a human reviewer determines that pages on your site do not comply with Google's webmaster guidelines. For example, a page on your site uses standard comment markup, but does not contain any comments. You need to fix these errors immediately, as manual actions can significantly affect your website rankings.
Structured data helps your website SEO
You should consider testing and validating your site's structured data as a key part of your SEO process, as it has a significant impact on your site's appearance in search results. Make sure your structured data is compliant with the structured data testing tools on this list.