Competition in the luxury segment appears to be heating up as BMW unveils the new 7 Series G70 to take on the Mercedes-Benz S-Class W223. It's its face design that's making the headlines, but it's actually also involved in various other enhancements.
We're probably familiar with the large grill because it's already in use, but what's even stranger is the separate light type. The thinner unit at the top is the DRL LED and direction indicators (Swarovski crystal version is optional), while the lower part is the standard headlight with adaptive LED unit as well as high matrix lighting (no laser light option).
The G70's roof and body lines differ from previous models, and the door openers are flat, like the iX electric SUV. To provide passengers with privacy, the triangular mirrors on the rear doors are completely dimmed.
Looking back, the new 7 Series features LED headlights with chrome stripes inside, while the number plate position has been changed from the top of the boot lid to the bumper below. The exhaust nozzles will be hidden on most models, with only the M760e model having four exhaust nozzles at the bottom of the bumper.
As always, customers will also get the M Sport package, which includes bumpers and baseboard, and 20-inch rims. The M Sport Pro package adds a black grille, spoiler Black rear, 21-inch rims, black M Sport brakes and belts with M tri-color tracks.
The model is only available in the long-wheelbase version, measuring 5,391mm in length, 1,950mm in width and 1,544mm in height. That's 130mm longer, 48mm wider and 51mm taller than the G12 model. The 3,215mm wheelbase also makes it 5mm longer.
In addition to the exterior, the interior has also been completely reworked, with a 12.3-inch digital instrument panel and a 14.9-inch touchscreen for the infotainment system – taken from the iX and BMW Operating System 8 systems.
The air-conditioning funnel is now hidden, and in its place usually has an interaction bar panel attached along the dashboard.The panel integrates mood lighting and control buttons for ventilation, lighting and opening glove boxThe steering wheel uses a 2 Series Active Tourer-like unit, while the center console with the transparent iDrive knob (optional crystal unit) and gear selector button is the same as the iX.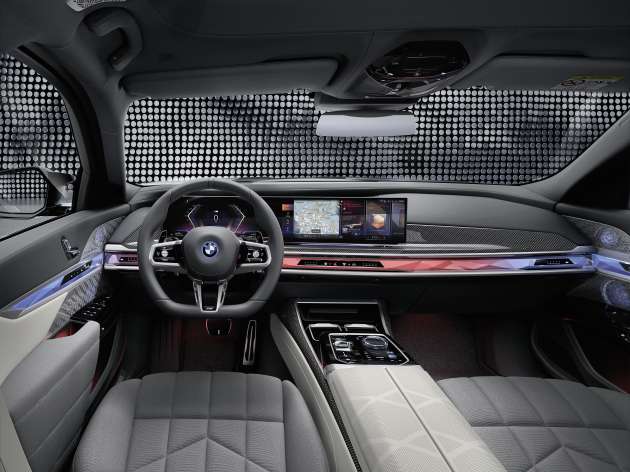 The rear is more specially constructed, and buyers get power-adjustable seats with massage and perforated functions, as well as an Axecutive Lounge option that offers up to 42.5 degrees of backrest adjustment and a roomless footrest design. A large hand rest with wireless Qi charger is also available.
The screen party at the back begins with the 5.5-inch touchscreens placed on the side of each door, most notably the 31.3-inch BMW Theater Screen 8K, which integrates with Amazon Fire TV and allows access to various services stream media. Four-zone climate control, a panoramic sunroof, and a 655-watt Bowers & Wilkins sound system with 18 speakers are standard.
Other options include a 1,965-watt B&W Diamond Surround Sound system and 36 speakers shaker It is placed on the back seat back. In addition, the panoramic roof of the Sky Lounge is equipped with glass-engraved light bars and doors that open automatically.
With this model, BMW showed they were serious about electric propulsion with the introduction of the i7, an all-electric version only available in one variant. In the US and China, the 7 Series will be available in a 740i variant that uses a 380 PS/520 Nm turbocharged 3.0-liter B58 six-cylinder, while other markets will also add a 735i variant to produce 286 hp/435 Nm.
There's also a more powerful 760i xDrive variant, which uses a 4.4-litre twin-turbo N63 V8 powered by 544 PS and 750 Nm. All of these engines are mated to a new eight-speed automatic transmission as well as an integrated electric motor, making it a simple hybrid.
The European market will only receive the i7 at an early stage, but a 740d xDrive using a 3.0-litre turbocharged B57 300 PS/650 Nm six-cylinder will be added later. Two plug-in hybrid models, the 750e xDrive and M760e xDrive, will be launched globally next year. Both use the 740i engine paired with a 145 kW (200 PS) electric motor for a combined output of 490 PS/700 Nm and 571 PS/800 Nm, respectively.
Safety-wise, the new 7 Series comes standard with automatic emergency braking, while the driver assistance package adds blind-spot observation and collision warning, reverse AEB, rear cross-traffic warning with automatic braking, and door open warning.
Driving Assistant Plus provides permanent lane and stop-and-go assistance for adaptive cruise control up to 180 km/h, while the Pro version allows it to be used at speeds up to 250 km/h, can recognize traffic lights and aisle changes assist.
Gallery: BMW 760i xDrive G70
Gallery: BMW M760e xDrive G70