Lakeside at Black Butte Ranch gets a sustainable renovation. It revitalizes the iconic resort community of the Oregon Sisters neighborhood at the gateway to Oregon's high desert. Originally planned in the early 1970s, the ranch was a vacation spot or year-round residence for many. The 15,000-square-foot lakefront is a replacement for the old pool facility.
Continue reading below
Our Featured Videos
The two buildings that make up the lakefront contain a restaurant with indoor and outdoor seating. There is also an outdoor pool, hot tub, a fitness room with locker rooms, an activity center and outdoor play area for children.
RELATED: Book your stay at these eco-friendly cottages in the UK
Additionally, the lakeside design seeks to develop the ranch's Pacific Northwest modernist heritage. It increases a sense of connection to the landscape and creates a more pleasant lifestyle experience for residents.
"The openings, vents and overhangs become apertures that refine the volcanic landscape into moments, unfolding to weave the horizon of the Three Sisters and Mount Washington into the space," said the designers.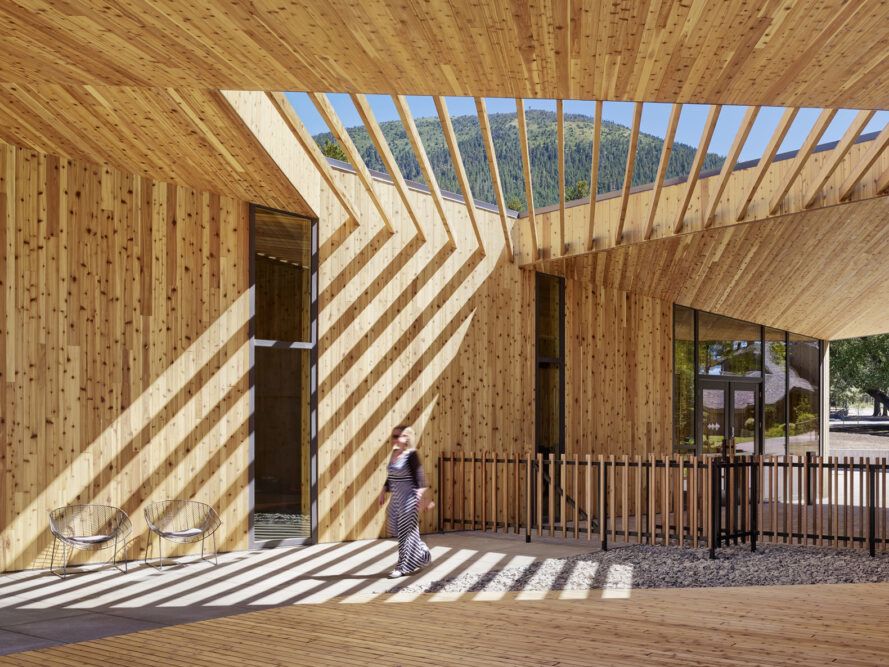 In addition, the new development creates a connection between indoor and outdoor spaces. It gives people more opportunities to connect with the landscape and find solitude and community. Hacker Architects designed the outdoor fireplace with deep outdoor overhangs for shade. They also include unfinished interiors for kids to do their crafting activities indoors.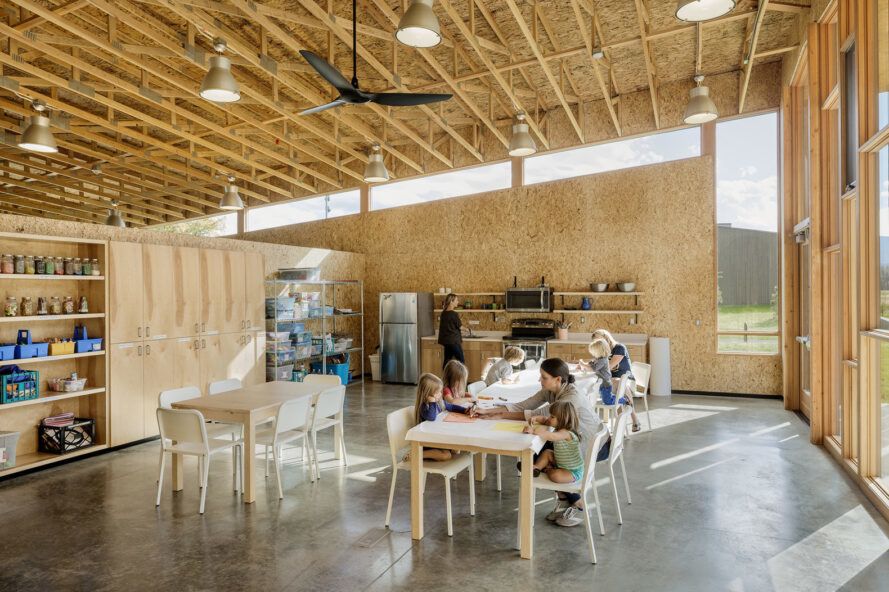 In addition, the architects used a site-sensitive design using the landscape. Understand the local microclimate and formulate passive energy saving strategies. This includes natural lighting and natural ventilation, using breezes from nearby lakes to reduce energy use.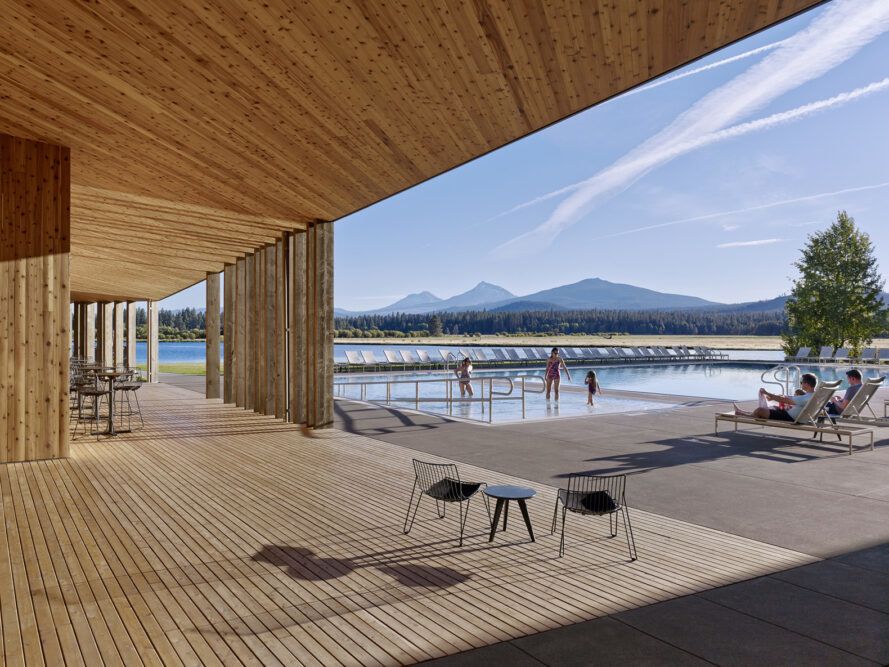 Concrete quality floors and walls retain heat during the day and release it at night to maintain a stable interior temperature. The floors also have radiant heating and cooling, a system chosen for guest comfort when residents are barefoot in the spa, pool and shower areas.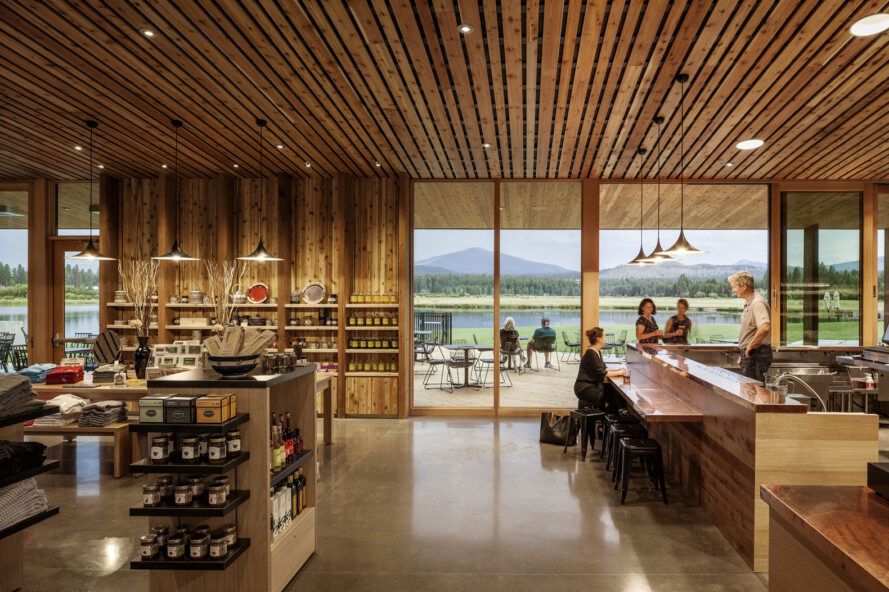 In addition, the restaurant utilizes radiant floor heating and cooling to avoid strong winds blowing through diners. A variable refrigerant flow (VRF) system for heating and cooling is combined with a heat recovery ventilation (HRV) system for ventilation to reduce energy costs. And solar thermal heats the swimming pool. Natural materials and finishes are used throughout the building. Cedar rocker siding on interior walls, ceilings, exterior walls and decks is wood framed.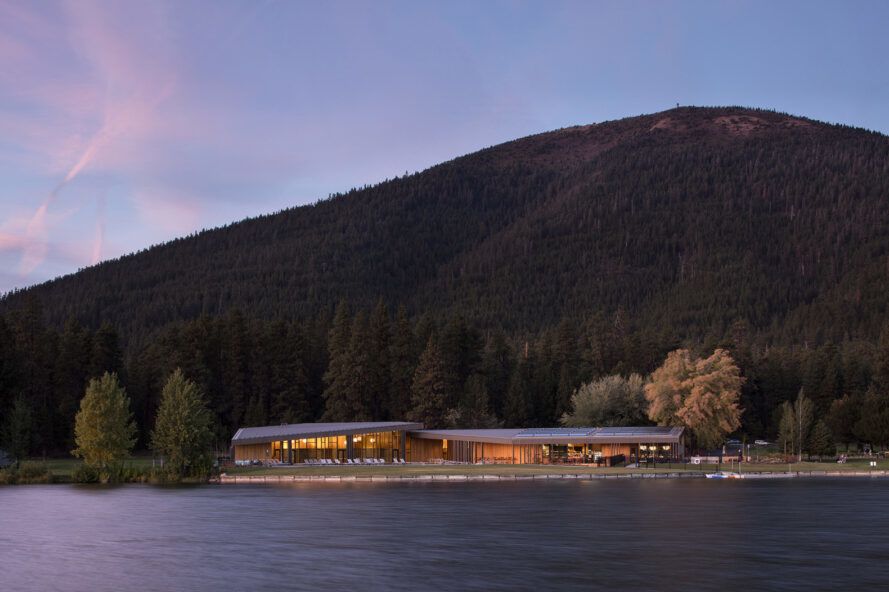 The buildings rise low above the ground in the shadow of low mountain peaks, with low undulating rooflines topped with solar panels. The effect at night is a warm lakeside cabin with a modern twist. We love the detailed idea of ​​the clean energy and materials used in the facility, and the amenities they provide to the community.
+ Hacker Architect
Jeremy Bittman Photography