In 2022, it's clear that Instagram is no longer just a photo-sharing app.
Not only has Instagram become a thriving social media channel with various videos, stories and even live streaming, but it is even growing into a shopping platform that merges e-commerce and social media.
And, our recent survey of 580 Instagram marketers found that using the app's shopping tools delivers the highest ROI of any Instagram strategy.
But with a wide variety of shopping tools popping up in feed-based posts, scrolls, live videos, stories, guides, and dedicated store tabs, figuring out where to start can be challenging.
To help marketers and business professionals like you, let's dive into Instagram's shopping tools to learn:
Which Instagram shopping tools perform best?
Using Instagram shopping tools is the strategy with the highest ROI and the one most used by Instagram marketers. Most importantly, it's just getting started.
While only 37% of people currently use the app's shopping tools, 94% of them will increase or maintain their investments this year. On top of that, a third plan to use Instagram shopping tools for the first time this year.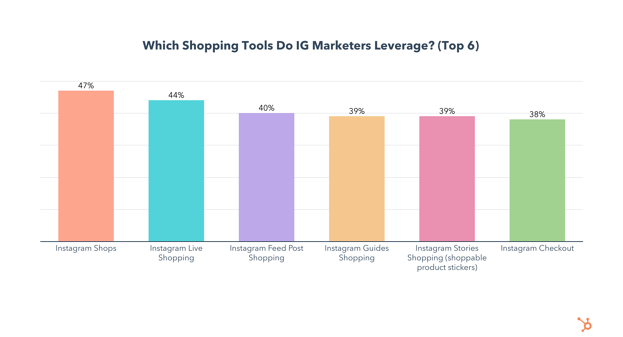 Additionally, marketers who use Instagram shopping tools are 15% more likely to say their Instagram strategy worked last year than marketers who didn't. So which tools perform best?
Among shopping tools, Instagram Live Shopping and Instagram Shops have the highest ROI and are also the most effective.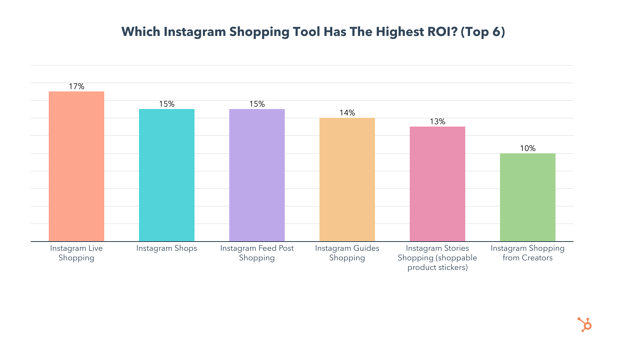 Additionally, both live shopping and store usage will grow significantly in 2022, with 55% planning to try Instagram Shop and 48% planning to use Instagram Live Shopping for the first time.
Instagram Feed Post Shopping, Instagram Stories Shopping, and Instagram Guides Shopping are all used by more than a third of marketers and also lead the way in terms of ROI.
Reels Shopping has the lowest usage and ROI, however, 42% of Instagram marketers plan to use Reels Shopping this year, the third highest of all Instagram shopping tools.
Should you only sell or launch products through Instagram Shopping?
Using Instagram shopping tools is a powerful marketing opportunity, but should you also have an external website to sell your goods and services?
41% of Instagram marketers say the majority of brands they work with only use the Instagram Shopping tool and don't have a separate website, while 59% use both.
83% of Instagram marketers say they've worked with brands that only launch products on Instagram, and 59% of them say it's better to launch only on Instagram than elsewhere.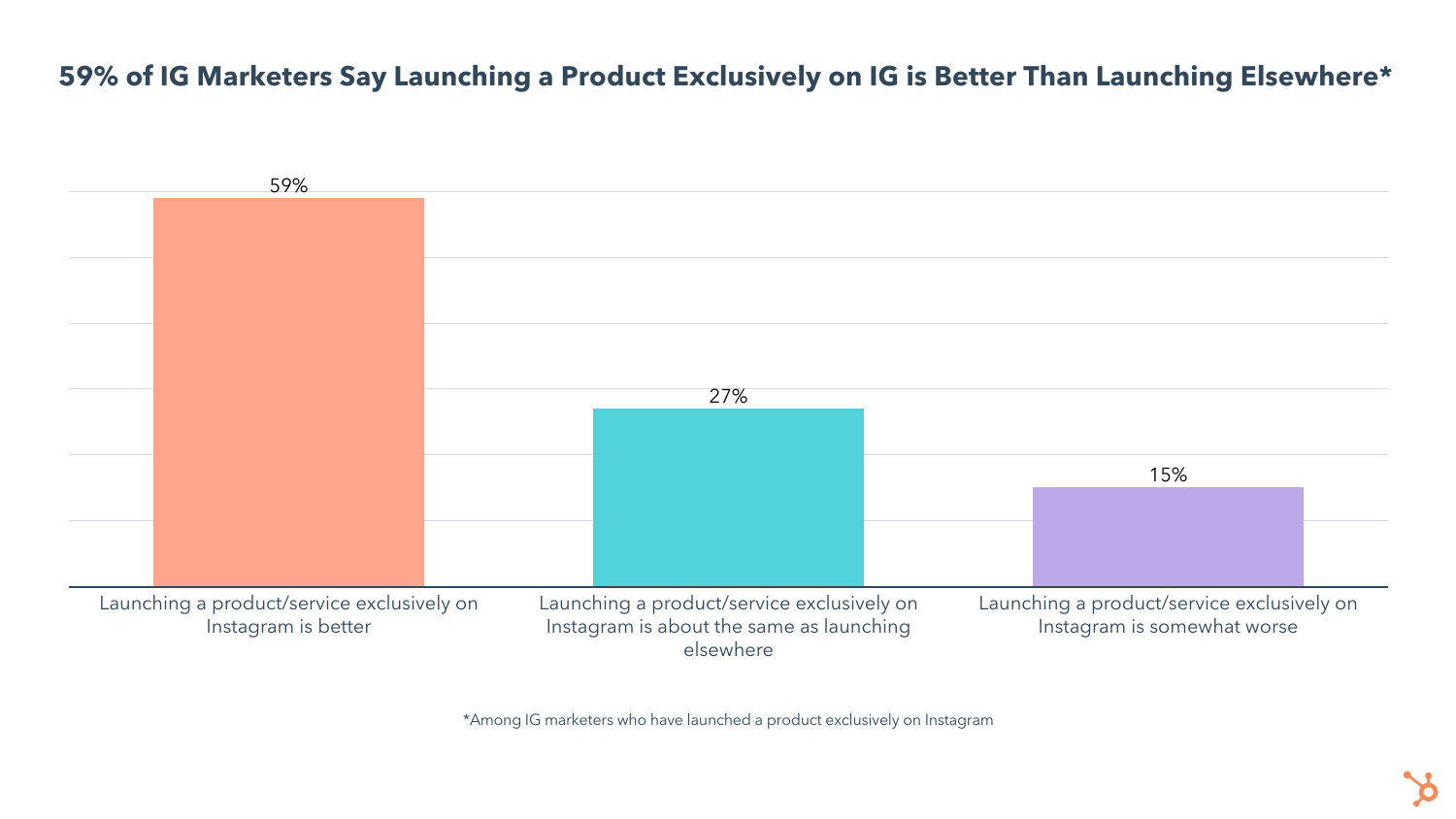 Dedicating products to your Instagram audience is also a great way to increase brand loyalty and reward followers.
This is just one of the many benefits marketers see from using Instagram's shopping tools. Let's see what other benefits marketers reap from social shopping.
The Biggest Benefits of Instagram Shopping Tools
Leveraging Instagram shopping tools brings a wide range of benefits, most notably increased product discoverability, simplified shopping experience for customers, easy collaboration with influencers, and the ability to integrate your products into content , to make it look more realistic.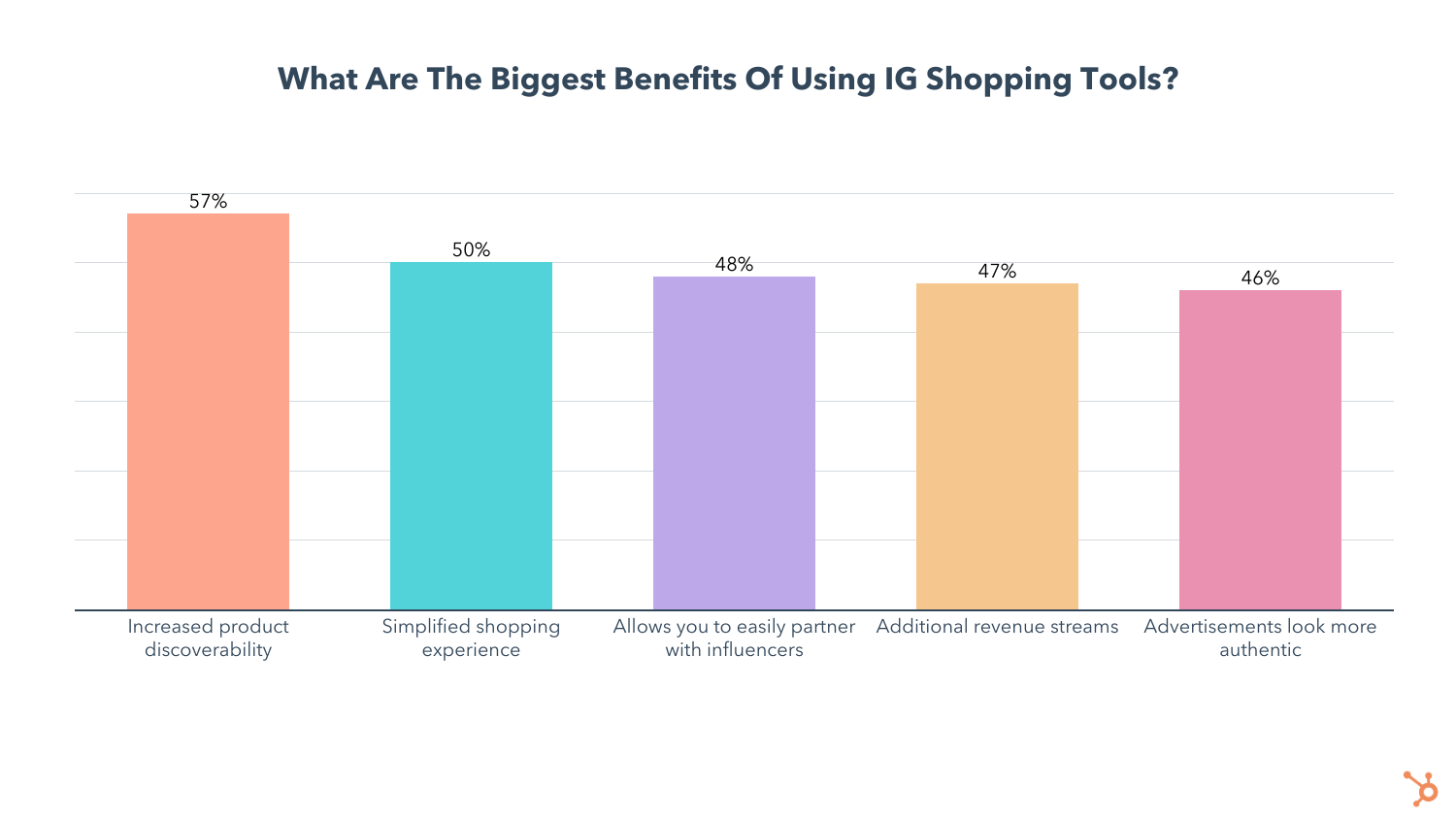 I mentioned how Instagram is focused on helping creators monetize their content, and one way to achieve all of the above is by leveraging creator shopping.
While not entirely new, this feature was initially rolled out to only a handful of influencers in 2019.Instagram won't officially announce its expansion to all users in the US until March 2022
Shopping from Creators allows influencers to tag your brand's products directly in their posts, so users can find and buy products without ever leaving Instagram. This combines all the benefits listed above and excels at making working with creators easy and authentic.
Despite all the benefits that selling on Instagram offers, there are challenges. Let's dive into the biggest challenges marketers face when using Instagram shopping tools.
The Biggest Challenge of Instagram Shopping Tools
The two biggest challenges marketers face with Instagram Shopping tools seem to be at odds with each other – while 38% of people using Instagram Shopping tools struggle to make a sale, 45% are having issues with too many sales and supply chain issues.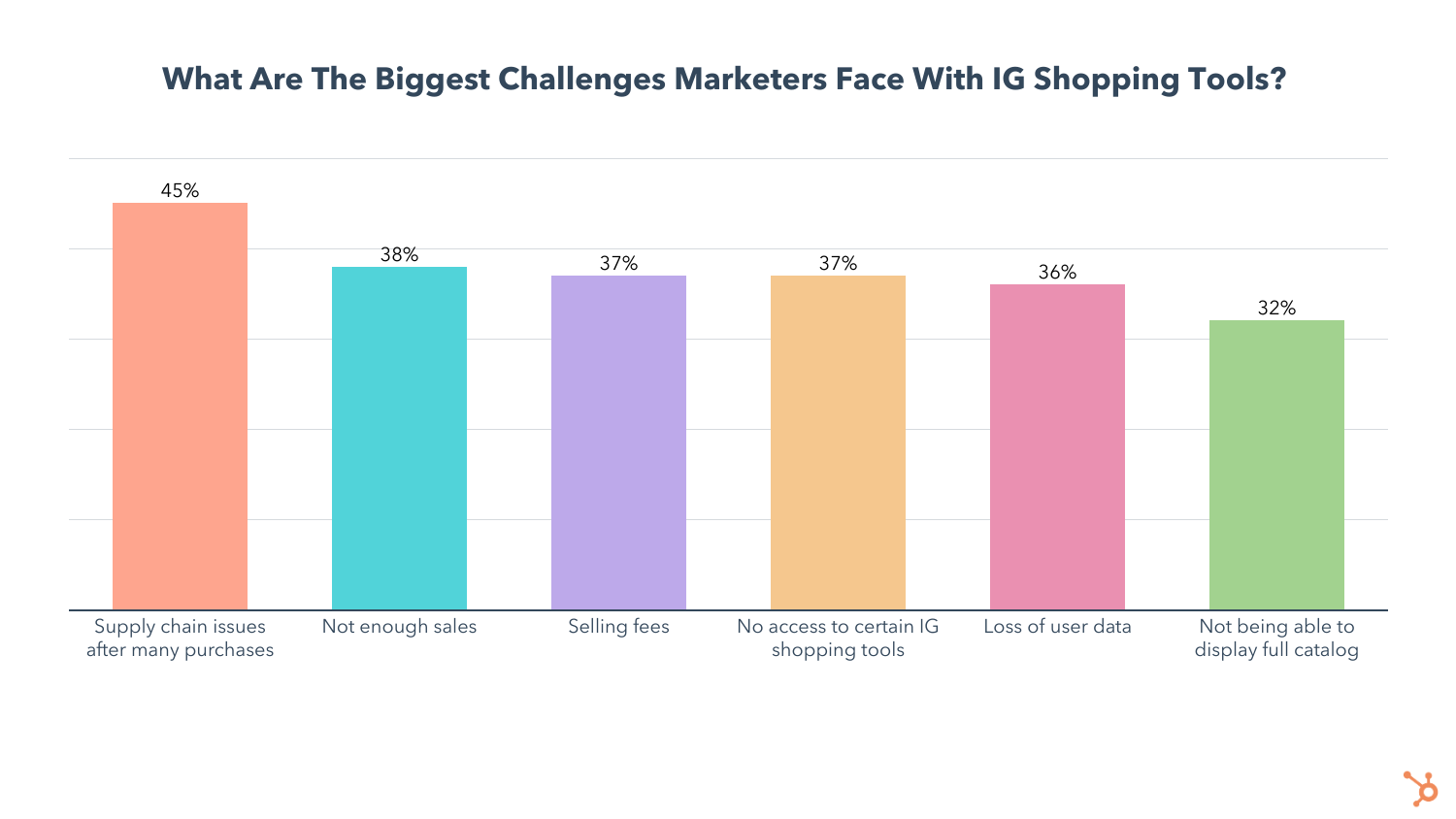 Another 37% complained about selling fees, currently 5% per shipment, with a flat fee of 40 cents for shipments under $8. However, the fee will remain in place until June 30, 2022 to help small businesses recover from the pandemic.
36% of Instagram sellers also question the fact that they don't have full access to the shopping tools the app has to offer. As the app fully supports social shopping in 2022, you can expect access to more users.
Social shopping is the future
Now is the perfect time to start selling on social media, and Instagram is the way to go.
If you're ready to get started, check out our 2022 Instagram Marketing Report to learn more about which strategies, features, and formats work best on the app. For some examples of how brands can use Instagram to shop, check out this article or this detailed ultimate guide.
Curious about your overall Instagram strategy beyond shopping? Check out our Instagram engagement report for more data.