Email is the darling of the marketing world, and for good reason. 99% of email users check their inbox every day, which is a great way to connect with customers.
However, the popularity of email marketing means you have to work harder to stand out from your competitors. It's not enough to just write great content. You have to make your emails feel personal and look professional as well.
We'll show you how to create handwritten signatures for your emails to give them that extra human touch.
Why do you need a signature
Of the billions of emails sent and received every day, more than half are spam. As a professional, you want your emails to look trustworthy and credible so customers don't drop them.
Creating high-quality handwritten email signatures helps you build trust with your customers. You can also use your signature to reinforce your brand identity, evoke professionalism, and add a personal touch.
how to sign
Visit the Signature Maker website.
Select Create My Signature.
Specify your pen settings.
Draw your signature.
Save and download your handwritten signature.
You can create a handwritten signature in five easy steps. Let's dive into the water.
1. Visit the Signature Maker website.
To create a handwritten signature, you need to use an online tool. The good news is that several sites like Signature Maker and Create My Signature digitize your cursive signature for free.
If you want your signature to match your brand color and style, look for a tool where you can customize the thickness and color of your "digital pen".
2. Select Create My Signature.
Once in Signature Maker or other tool, select the "Create My Signature" button.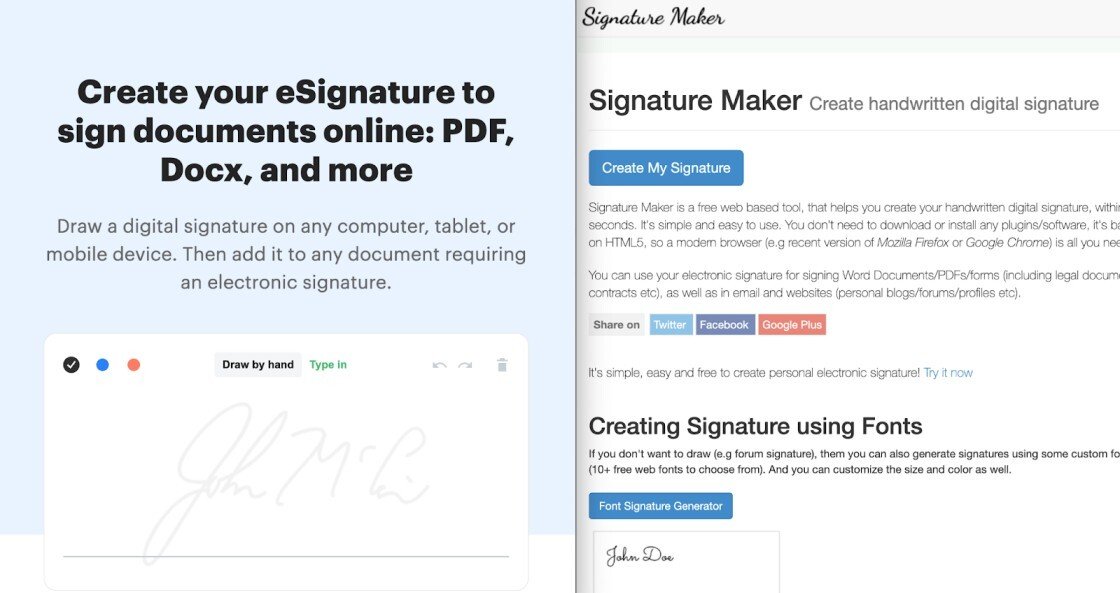 Image Source
If you use other online signature generators, you may have the option to enter or draw your signature. Select the "Draw Signature" option.
3. Specify your pen settings.
On the Electronic Signature Maker page, your pen has two customization options: width and color.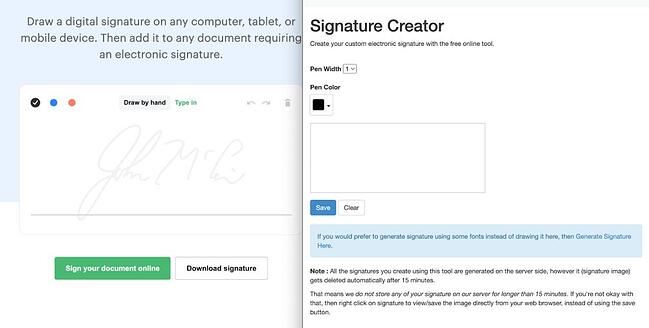 Image Source
Use the number to select the pen width. The higher the number, the thicker the line. Then, you can choose a pen color.
The tool has three color categories: Basic, Saved, and Advanced. If you can't find a suitable color in the basic selection, you can use the advanced tab to choose a color and adjust brightness and saturation.
In general, it's best to use a black pen or choose a color that matches your brand. When using a color that fits your brand, make sure it's easy to read on your computer.
4. Draw the signature.
After customizing the settings to your liking, use the mouse to draw your own signature. If you're using a touchscreen device, you can also use your finger or stylus.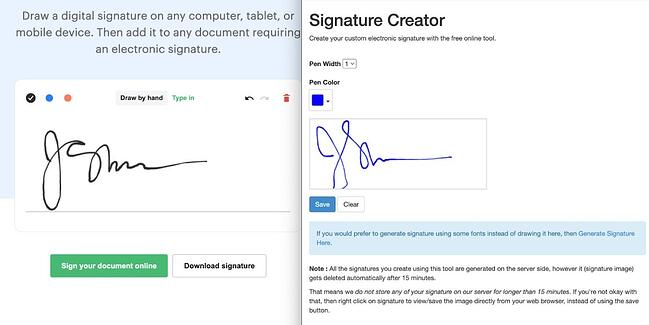 Image Source
If you don't like your drawing or want to change pen settings, you can use the Clear button to start over.
Learning how to sign with a mouse or trackpad can be challenging, so feel free to try it out on a touchscreen device or use handwritten fonts to generate a cursive signature.
5. Save and download your handwritten signature.
If you have a satisfactory handwritten signature, click Save. You will then see a button that says "Download Signature". Click the Download button to save your digital signature as an image file (.png or .jpg format).
The images you download will have your personal signature on a transparent background. This way, you can add it to your emails and even use it to electronically sign PDF documents.
How to Add Your Handwritten Signature to Emails
Now that you have a file with your signature image, it's time to add it to your email.
Option 1: Create an email signature with a professional template
If you want a more professional signature with more formatting options and social media icons, you can create one with HubSpot's free email signature tool.
Before you get started, you'll need to upload the image file with your handwritten electronic signature to Dropbox or Google Docs to get the image URL.
Once done, navigate to HubSpot's email signature tool and select a template on the left.
Use the second tab to enter your signature details, including your name, title and contact information.
Then, navigate to the fourth tab with a picture icon to upload a custom image.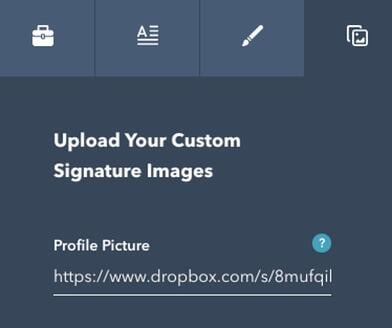 Image Source
Go to your Dropbox image and click "Copy URL" to get a link to your digital signature image. Paste the link under "Profile Picture" on the HubSpot tool to add your handwritten signature.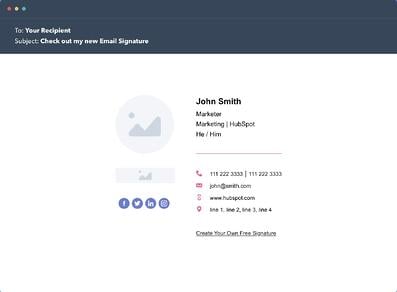 Image Source
You can use the third tab with the brush icon to change the theme and color of the signature to match your brand.
Once you have your perfect signature, select "Create Signature" to fill in your information and download a new email signature.
Option 2: Use your email client signature settings
Since your signature file has a transparent background, you can upload it as an image and insert it into your custom signature using Gmail or Microsoft email settings.

Make sure you manually resize the image or use the "small" size to make sure the signature image isn't too large.
Final Thoughts: How to Create a Handwritten Signature for Your Email
Email marketing is one of the best channels for reaching customers, and your competitors know it too. If you want to stand out, you have to pay attention to every element of your email, not just the content.
Using a professional template with a handwritten signature balances professionalism and personalization to help you stand out from the crowd.