I've been working in restaurants longer than Tom Brady has been playing professional football. I've certainly considered retirement more seriously than Brady over the years, but now we're all retired because the rigors of our jobs have become irrefutably overbearing. I remember countless times exchanging fantasies with colleagues about quitting the industry. Restaurant jobs are quicksand for some of us, and a resume with only restaurant experience can make it hard to liberate yourself.
For the better part of two decades, I've been trying desperately to cultivate my creativity while trying to overcome the anguish of putting food and drink on strangers' tables. Working full-time in a restaurant, even if it's lucrative, often dashes those ambitions.
I could never have predicted that my restaurant career would end in forced retirement. The pandemic has cost me my job, but I already feel disenfranchised by the industry. Like many others, my time away from restaurant work for the past two years – no matter how impoverished – has restored my sanity. As someone who just came back to my senses, I would never be able to get back to working in a restaurant if that meant accepting the old onerous terms.
While it's hard to blame every boss for mass layoffs, many service industry professionals had fragile relationships with their former employers before we were fired. After being treated so unceremoniously, it is almost laughable that we were expected to return to work with few problems. The narrative that "no one wants to work anymore" trumpeted in the financial news and political media is a fabrication by greedy bosses. Most of us would go back to work if our former employers had done enough publicity. The longer the pandemic lasts, the harder it will be to plan our lives around uncertain returns.
I did miss part of the work. The adrenaline rush of a busy restaurant is exhilarating. In the early days of the pandemic, I was extremely tired every day around 4-5pm, the start of my normal dinner shift. My internal clock is used to dashing a shot of espresso and cinching my waist for a busy night. Now my engine is broken and I want to nap every night. As someone who once thrived in chaos, my now bland life is both pathetic and wonderful.
Kitchen staff often describe being overwhelmed with ecstasy. Most cooks prefer to be busy rather than slow. They would rather work harder and faster than struggle behind the production line. Standing in the same boat, rain or shine, is how chefs are honored. It can be addicting. Restaurant folks need constant stimulation to stay energized. We thrive on kinetic energy.
I miss the camaraderie of the staff, the feeling of common purpose. It forces you to never be alone in a way. Restaurant work teaches you to live with people and be productive, even if you have nothing in common. You build deep bonds through shared endurance. Even when team members despise each other, they still support each other when the first table is seated. We put our vendetta aside for a smooth and profitable transition.
What am I missing? Had to overcompensate for the rudeness of the guests. An unpleasant party — whether they're bringing food back, complaining about music, or asking for a table change — always makes it harder for the deserving people to stay happy. I often have trouble adequately tending an entire table because one of the groups behaves rudely. Worry about enforcing common etiquette makes staff unduly timid, especially in fine dining restaurants, where qualified guests see spending exorbitant amounts as an excuse for a lack of social etiquette.
Restaurants focus on mistakes because they strive for perfection. However, if the review fails, the success must also be celebrated. Sadly, praise is rare. Restaurant employees are often judged by their most dissatisfied customers, and the least satisfied people in your restaurant are often the most miserable people in the first place. It is absurd to expect trained hospitality professionals to carry the burden of others' pain. Unable to blame grumpy guests under constant duress, restaurant staff often vent their frustrations on each other.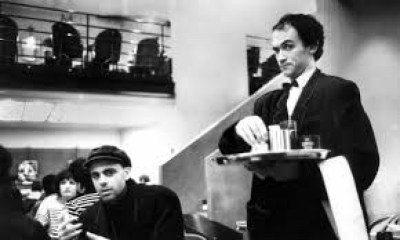 Two years after a once-in-a-century public health crisis, the job has never been more difficult. Even before masks and vaccine inspections, keeping people happy is more challenging than ever. Hospitality is the tendency to welcome people and make them have a good time, not to counteract things they don't like, including masks and vaccines. I've handled a lot of tables in my career and I'm sure nothing I or my teammates do will make them happy. no. Many of us learn to anticipate worthless complaints before they happen, but that doesn't always mean we can forgive ourselves when guests leave disappointed. The industry needs to change this mindset.
Leaving the restaurant made me rethink its purpose. In particular, the fine dining industry, which has become an oligarch, has done little to contribute to society other than making the rich feel more important than themselves. The pandemic has killed independent restaurant businesses, and the public seems conflicted about the mounting toll of casualties, including precious facilities in their communities. It illustrates how numb we have become to the decay of the restaurant industry and how much our appreciation for great restaurants has been eroded over the years. The idea of ​​a "ghost kitchen" alone is supposed to be Freddy Crewe-style horror, but it's not because we've grown increasingly estranged from the people who cook our food over the years.
We have become more selfish and see restaurant patronage as pure hedonism. But restaurants exist not just to please us. They are the backbone of the community – not unlike churches, schools and park areas. But so little is expected of restaurant customers other than their money. Our relationships with restaurants have become increasingly platonic, leaving businesses feeling unsupported and struggling to survive. As a restaurateur, if you turn your business around enough time, you'll end up going in circles. Meanwhile, restaurant food has become another convenience, like ditching dry cleaners or hiring dog walkers.
That's why I can't participate anymore. If the pandemic has shown us anything, it's how much the social fabric of our communities is torn apart when we can't get into restaurants. Absence should make the heart a better place. but it is not the truth. Independent restaurants are closing at an alarming rate, Congress is still stalling on much-needed aid, and multinational restaurant companies such as Applebee's and the parent company of Olive Garden are at all-time highs. Is this the dystopian future people want? Honestly, I don't know who these people are, but I definitely know I don't want to serve them anymore.
---
Processing…
success! You are on the list.
Oops! There was an error and we were unable to process your subscription. Please refresh the page and try again.
related