A few days after being shown in Malaysia, the Kia EV6 is now officially on display at the Kia 2022 Malaysia Professional Golf Championship (PGM) at Glenmarie Golf and Country Club in partnership with a local Kia dealer, Dinamik Jaya Motors.
The EV6, Kia's first all-electric production model, was unveiled globally last March, and it's produced on an Electric Global Modular Platform (E-GMP) platform similar to the Hyundai Ioniq 5 already launched here. The EV6 will also no longer be available in the Malaysian market, and may reportedly launch in the third or fourth quarter of this year.
The model on display is from the GT-Line version, which features exterior details such as wheelchair protection in body-color, and a more aggressive front apron with gloss black accents. The rear apron is also different from the regular Wind version and comes with 20-inch rims and 255/45R20 tires.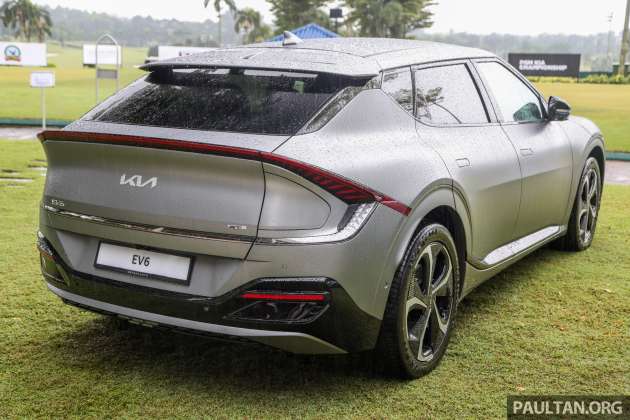 As for the cabin, it features black as the main theme with white highlights. Two 12.3-inch screens are placed on the dashboard, along with other details we can see through the window mirrors, such as a two-zone air conditioning system, vegan leather and suede upholstery, and a wireless smartphone charger.
According to the frame number (VIN) on the windshield, the EV6 on display this time is an all-wheel drive model, equipped with a Long Range version grid unit, equipped with a 77.4 kWh lithium-ion battery, and can travel 506 kilometers. A single full charge.
It also installs two electric motors on the front and rear axles each with a combined power of 325 PS (321 hp or 239 kW) and a maximum torque of 605 Nm, enabling it to accelerate from 0-100 km/h in just 5.2 mph seconds, the top speed reaches 183 km/h.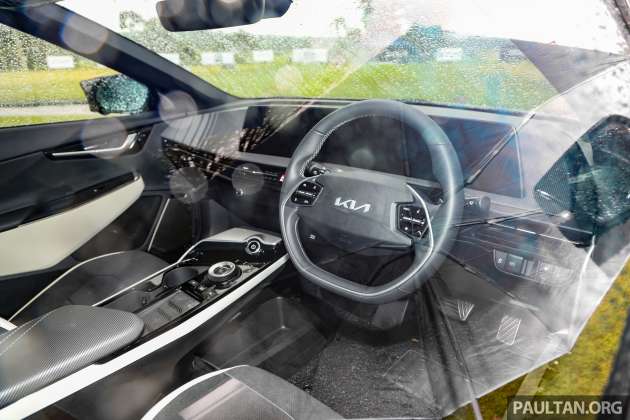 By comparison, the Hyundai Ioniq 5 in the top version, the Max, has a 72.6 kWh battery with a range of 430 km, two 305 PS (302 hp or 225 kW) all-wheel-drive electric motors and a maximum torque of 605 Nm allowing it to run at 5.2 Accelerates from 0-100 km/h in seconds and is capable of recording a top speed of 185 km/h.
Many of you may have seen the Ioniq 5 in person – it looks about the size of a Volkswagen Golf in the pictures, but it's actually so much bigger that the 20-inch rims on the hatchback appear to be only 17 inches. The EV6 is also larger than the Ioniq 5, measuring 4,695mm long, 1,890mm wide, 1,550mm high and a 2,900mm wheelbase.
However, this is just a preview unit and the actual model with Malaysian market specifications has yet to be finalized. We expect this EV6 to be more expensive than the Ioniq 5 because it has better details such as a larger battery and adaptive suspension.
The Ioniq 5 is currently priced from RM200k to RM270k (full specs and extended warranty), and the waiting period for subscribers has reached a year. So maybe this EV6 will be sold for a whopping RM300k?