Two of Moderna's top 10 investors voted against a shareholder resolution that would push the U.S. drugmaker to move its technology to developing countries.
The resolution, which will be presented at the vaccine maker's annual meeting on Thursday, asks its board to explore the feasibility of transferring Moderna's intellectual property and technical know-how to help address "supply challenges" and facilitate production of its mRNA Covid-19 Vaccines in low- and middle-income countries.
"We really care about equitable access to vaccines, but the key challenge is not vaccine supply, but distribution," said one top-10 shareholder.
Moderna's second top 10 shareholder agreed that access was not a major hurdle, but pointed to widespread vaccine hesitancy in developing countries. "You can provide vaccines, but you can't force people to get vaccinated," they said.
Recently, Moderna had to discard tens of millions of doses that had been earmarked for the African Union and poor countries' Covax vaccine access programs, but were subsequently rejected.
Likewise, last July, the US government donated 500,000 doses of the Moderna vaccine through Covax to Haiti, which has one of the lowest Covid-19 vaccination rates in the Western Hemisphere. But only a fraction of those jabs were executed, and hundreds of thousands of unused footage were returned.
The resolution is part of a two-year campaign by civil society groups, health experts and some heads of state to boost access to Covid-19 vaccines in low-income countries, where vaccination rates lag behind richer ones.
A similar resolution, drafted by Oxfam, will be presented at Pfizer's annual meeting, which also takes place on Thursday.
Activists argue that Moderna and Pfizer, which have teamed up to produce an mRNA Covid-19 vaccine, are putting profits over health by refusing to share technology and opposing the World Trade Organization's proposal to drop intellectual property rights for Covid vaccines.
The Pfizer and Moderna resolutions were supported by proxy advisor Institutional Shareholder Services. Another influential proxy adviser, Glass Lewis, suggested investors vote for the proposal at Moderna, but it backed Pfizer's board. Voting before the AGM closed on Wednesday.
A distribution challenge in developing countries is the need for refrigeration to store mRNA vaccines. Moderna is investing $500 million in a facility in Kenya to make medicines based on the same mRNA technology that drugmakers use to develop a Covid-19 vaccine.
"A better use of Oxfam's time might be to develop distribution logistics and start a public campaign to explain why vaccinations are a good thing," said the No. 2 shareholder in the top 10.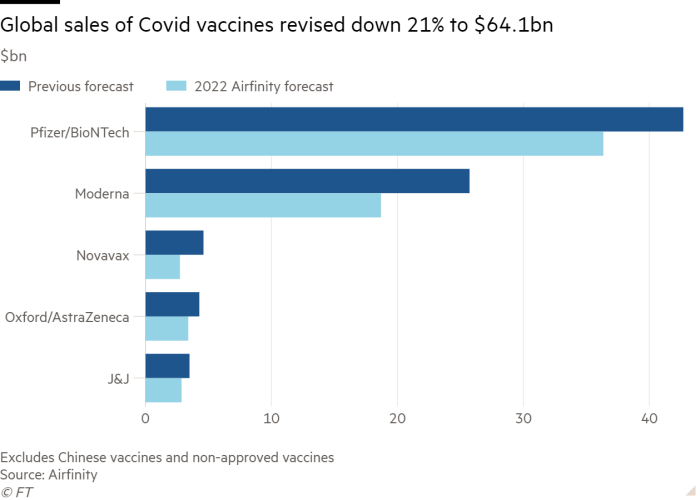 Moderna's chief executive, Stéphane Bancel, told the Financial Times last week that there was "a huge oversupply of vaccines".
"There's no benefit to the planet because we're swimming in vaccines, and we're actually destroying vaccines they don't want," he said. "There's no fact-driven reason when there are too many vaccines to divert our best engineers to technology transfer."
Robbie Silverman, senior communications manager at Oxfam, said: "The only sustainable way to vaccinate the world is to [low and middle-income countries] Have the technology and tools to make your own dose."
Pfizer has urged shareholders to reject a resolution requiring it to commission a report on the public health costs of limited sharing of Covid-19 vaccine technology and the resulting reduced availability in poorer countries. The company said it had delivered 1.1 billion doses of the vaccine to 101 low- and middle-income countries, and there was no need for such a report.
The drugmaker added that expanding production could put patients at risk and strain its resources.
"Complex customs procedures, tight supplies for vaccine production, regulatory delays and country readiness are real barriers to vaccine distribution and access globally," Pfizer said.
Oxfam also drafted a shareholder resolution requiring Johnson & Johnson to be transparent about the pricing of its Covid vaccine.