[ad_1]

As college students about to enroll in the first week of higher education, many people are optimistic about a new beginning, but they are also struggling to deal with the mental health and academic challenges of the pandemic.
Annual meeting Start a survey of university student participation It was found that 53% of first-year students reported a significant increase in mental and emotional exhaustion. Among them, nearly 70% of people said that they "have high expectations for academic difficulties", while 42% of their peers have not experienced greater fatigue. In addition, 30% of the students surveyed reported worsening depression, 27% said they experienced more loneliness, and 20% felt more desperate.
"The combination of mental and emotional exhaustion and anticipated academic difficulties strongly suggests that teachers, academic advisors, and student life staff must conduct extensive and early inspections to provide support and intervene when necessary to help students in the university. It was successful in the first year," the survey said.
From May to early August this year, more than 35,000 students participated in the BCSSE survey administered by the Center for Higher Education Research at Indiana University. The survey will last until mid-September and will eventually collect data on approximately 50,000 first-year freshmen.
The result is as follows Institutions expand their mental health services in the upcoming semester. During the epidemic, college students Difficulty in accessing mental health care And have Experienced a higher rate of depression Because of COVID-19.
Erica Riba, Director of Higher Education and Student Engagement at Jade Foundation, a non-profit organization dedicated to protecting the emotional health of teenagers and young people and preventing suicide, said the results of BCSSE are not surprising . She said: "For many people, COVID is already multidimensional." "And the students' mental health has been completely traumatized… In the past year and a half, we have suffered huge losses."
The Jed Foundation established guidelines earlier this month Solve the campus mental health problems in the fall semesterRiba said the school has the responsibility to create the right environment for students to succeed during the pandemic. She said: "The key is to remind everyone that we have not really gotten out of the COVID-19 dilemma." "We must address this issue from a health and safety perspective, which includes well-being and mental health. When we return to campus, We need to truly design a culture of caring, compassion and belonging."
The survey also found that although student optimism is declining, it is still strong. Most freshmen expressed enthusiasm for the first year, and most people said that COVID-19 did not have much impact on their college plans.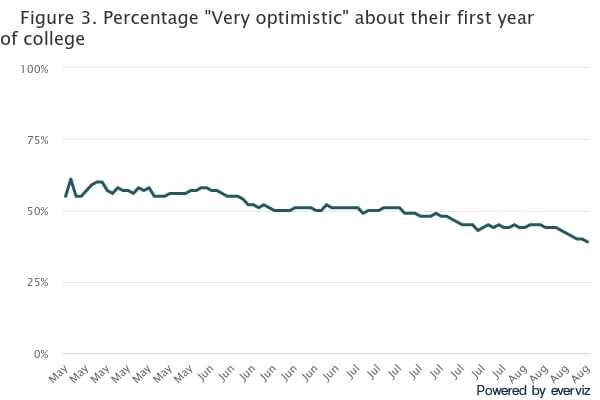 The results also highlight the different learning environments of students during their third year of high school. Most students are experiencing some kind of online learning. Approximately 60% of the people did mixed teaching in their senior year, while 26% took the class entirely online, and 14% took the class entirely in person.
Looking to the future, more than half of the students said they "strongly" prefer face-to-face teaching in college, and those who complete high school online are only half of those who don't like face-to-face teaching.
The results of online and face-to-face learning vary by race and ethnic identity, with approximately half of black or African American (47%), Hispanic or Latino/o (51%) and Asian (49%) students fully accepting online teaching.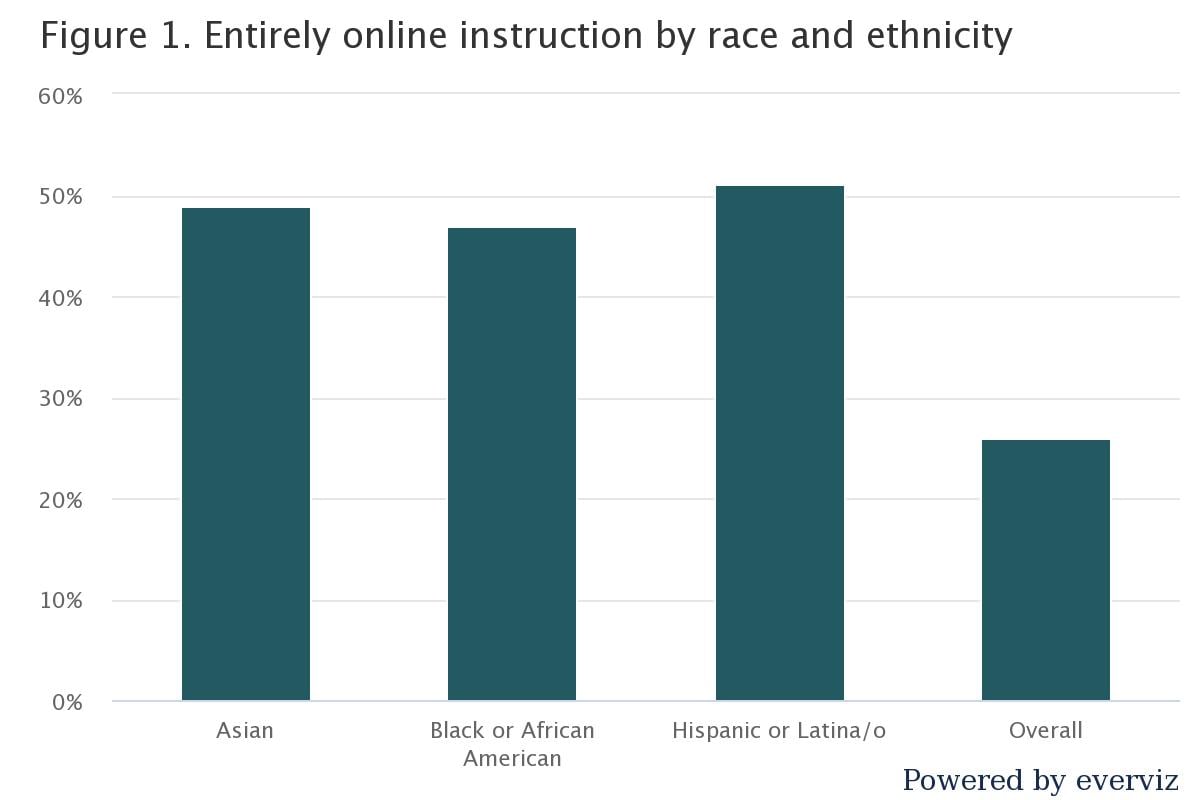 The survey stated that the differences between the overall results and the minority survey results should be examined to understand how to provide resources for different student groups.
Riba said that returning to face-to-face learning needs to consider minority students and create a campus where these students feel safe. "What higher education needs to pay attention to is to consider how to share resources among minority ethnic groups to ensure that there is room for students to come together," she said. "We are really aware of the need to increase our resources and ensure that those from disadvantaged backgrounds are truly recognized and listened to."
[ad_2]

Source link