Just because we're marketers doesn't mean we really understand the science behind what drives consumers to buy. But marketing without this information is like walking outside wearing a blindfold — it's hard to get there without scratches.
Below, we present some datasets on buyer behavior, their key findings, and the lessons you should learn from each study.
So let's dive right in.
Online shopping growth statistics
According to Statista, online shoppers have increased from 209 million in 2016 to 230 million in 2021.
While technological advancements have changed the way consumers shop, the outbreak of the 2020 pandemic has fueled this shift even more.
In fact, a Stackla report found that 67% of consumers said their online purchases have increased since the pandemic began — 27% said a substantial increase.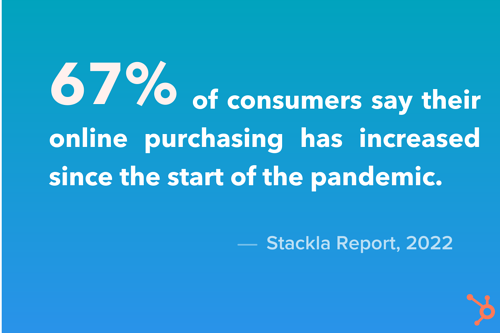 With social media platforms offering advanced shopping features, it's no surprise that shoppers are buying more online. On Instagram, you can discover brands, filter their products and make purchases without leaving the app.
This frictionless shopping experience helps build a consumer base dedicated to shopping online.
A survey by Jungle Scout found that 46% of consumers only buy holiday gifts online.
So, what does this mean for brands? This is forcing brands that are more focused on offline activities to change their approach and turn their attention to online consumers.
These figures do not suggest that you should change your business model to an online-first approach now. However, to remain relevant and competitive, building a strong digital presence is key.
What drives online shoppers
One of the biggest questions marketers have around online shopping is what makes consumers finally click the "buy" button. The answer is complicated because it varies by audience, industry, product and many other factors.
However, there are some general elements that definitely help guide consumers to buy.
The first is personalization. According to the Stackla report, 72% said they would be more likely to buy from a brand if it consistently offered them a more personalized experience.
Personally, any branded emails I get that include my name get more attention than those that don't. Why? It got my attention and made the email feel more intimate – even though I knew it could be automated.
Another important driver is user-generated content. We know that social proof can be very effective in creating buzz around a brand.
In the same report, 79% said UGC had a high impact on their buying decisions, far more than branded content and influencer content.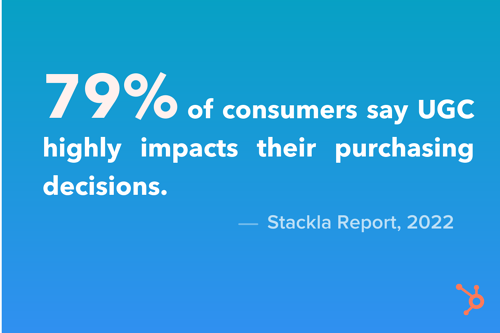 Another form of social proof? Comment.
58% of consumers leave an e-commerce store without making a purchase because the site does not contain any customer reviews or photos.
Images can have an incredible impact when someone is considering a purchase. In fact, the majority of consumers surveyed in the Stackla report said they were more influenced by social media images and videos than they were before the pandemic.
The long-term strategy to drive purchases is to build community.
According to the report, 61% of consumers would be more loyal and more likely to buy from a brand if invited to be part of a customer advocacy community or content creator.
When you build a community with your audience, they will feel more connected to your brand and therefore more likely to buy and spread the word.
Online Shopping Statistics for Millennials
Specific to millennials, here are some interesting statistics about their online shopping behavior.
60% of millennials leave an e-commerce store without making a purchase because the site has no customer reviews or photos. (Stackla report, 2021)
Millennials have a spending power of $2.5 trillion. (Ypulse, 2020)
30% of millennials will use "buy now, pay later" services (BNPL) in 2021, and 39.5% are expected to use them in 2023. (Statista, 2021)
About 40% of millennials say they have formed new relationships (or strengthened existing ones) with businesses that prioritize the environment. (Deloitte, 2020)