Bollinger Motors has a contract manufacturer for its line of commercial electric trucks: Roush Industries.
Roush will assemble Bollinger's line of Class 3 to Class 6 electric trucks at an expandable facility in Livonia, Michigan, the companies announced Monday. The arrangement will include the platform and chassis cab, and Bollinger will source and supply materials to Roush.
Bollinger Electric Truck – Class 3 to 6
Unfortunately, that relationship doesn't include the highly anticipated B1 electric SUV and B2 electric pickup. Both models were indefinitely delayed in January, with deposits refunded, as the company moved to larger commercial electric trucks to survive.
In 2020, Bollinger began to explore the potential of the B2 chassis cab – for a variety of uses such as trailers, public works vehicles and ambulances. In March 2021, it revealed more information about its Chass-E and Chass-E Cab models, including a starting price of $55,000, a battery pack totaling 402 kWh, and a 14 kWh "export power" plan.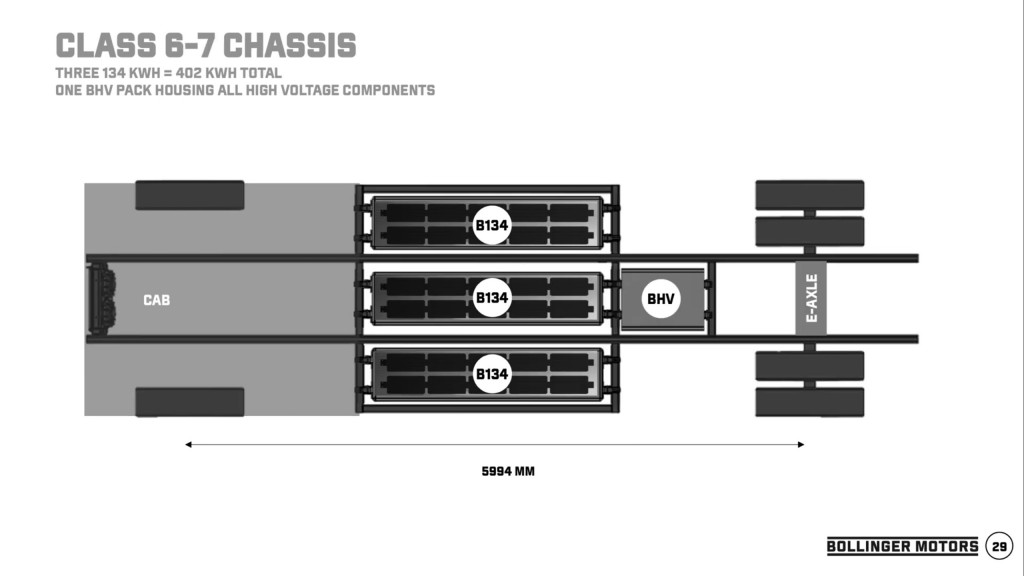 Bollinger Class 6-7 Battery Layout
Before making that decision, Bollinger noted that it had narrowed the list to several potential manufacturing partners for B1 and B2.
In the EV space, Canoo, a startup that has changed its plans for EV assembly in recent months, has partnered with Roush to produce beta cars in early small batches and help with durability testing. Other partners mentioned on Roush's own website include Google and Polaris.
Bollinger praised Roush's track record of working with startups and established OEMs alike, noting that it will help startups meet their quality and production goals. It said it would work with Roush on pre-production vehicles and validation testing, but did not give an exact timeline for the first deliveries.