If you're just getting started with Search Engine Optimization (SEO), a step-by-step SEO tutorial will do. By now, you've probably heard some basic terms like keyword research and on-page optimization. But how do you apply all the knowledge you've gathered so far?
We'll walk you through it step by step. No matter how new you are to SEO, anyone can start using the following SEO tips and get their website ranked in no time. Well – for a while. Maybe a year or more. You should know that SEO is a long game.
By the end of this tutorial, you will be able to complete a series of actionable steps to get your SEO strategy off the ground.
1. Find keywords.
Keyword research is as simple as choosing a list of words and phrases relevant to your business. Think about which words are most likely to get people to do what you want them to do (visit your website and submit a form) and focus on those words.
You can use specialized keyword research tools, but as a beginner, it's wise to choose your keywords intuitively first. For example, if you sell roasted coffee, you might choose Roasted Coffee, Colombian Coffee, and Local Coffee Roasters.
List these keywords in a spreadsheet or document for you to keep track of.Then, pick one word or phrase used one pages of your website. In other words, you don't want to target different keywords on one page. You want to target a keyword, and any keywords that are semantically related to it.
For example, you might write a page for "local coffee roasters". On this page you can locate semantically related terms such as "local coffee", "coffee roasters near me", "coffee roasters" [city name]," and "Locally Roasted Coffee".
Here's an example of what it looks like: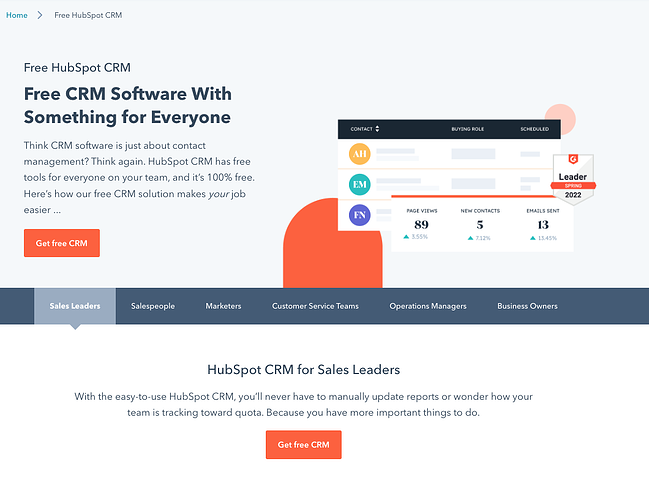 Image Source
You can see some keyword variations: "CRM software," "CRM solutions," and "free CRM."
2. Put the keyword in the page title.
Once you've picked a keyword, it's time to put it into action. First, you'll enter the title of the web page.
Page titles are one of the most important things Google and other search engines evaluate to determine the content on a web page. It appears at the top of web page results in Search Engine Results Pages (SERPs). Note how the following brands placed their keyword "Atlanta Coffee Roaster" on their page titles:

Don't forget to keep it short. We recommend using 65 characters or less to ensure search engines don't trim your title, such as the following search results:

Remember, your brand name is part of your website title character count.
3. Put keywords in the page URL.
Google and other search engines also use the text of a page's URL to determine the content of a web page. You should use your keyword or phrase exclusively in the slug.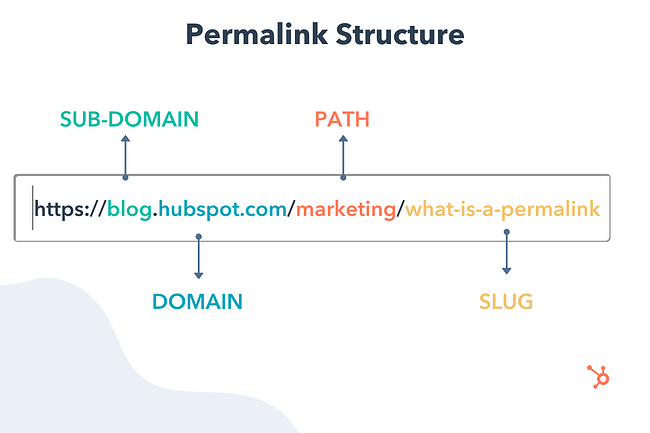 Image Source
Don't overdo it, though. For example, if you sell coffee, don't create a slug like this:
mycoffeecompany.com/coffee-atlanta-near-me-fulton-county-greater-atlanta-area-coffee
Keep it short, descriptive and simple. A working example is:
mycoffeecompany.com/atlanta-coffee-roaster
If you're using WordPress, here's how to change a page's slug on the backend.
4. Add keywords to your meta description.
The meta description of your page can further tell search engines and users what your page is about.

While metadata isn't as important as it once was, it's still important. Take advantage by putting your keywords or phrases there. Descriptions should be readable and meaningful, and keyword metadata should focus on your keywords or phrases. Don't make it too long – less is more.
5. Add keywords to your H1 text.
The H1 text is usually the title of the article or some larger bold text at the top of the page. Google and other search engines can see this, and they pay more attention to words in H1 text. Make sure your keyword or phrase is there.
Here's an example from a local coffee roasting company: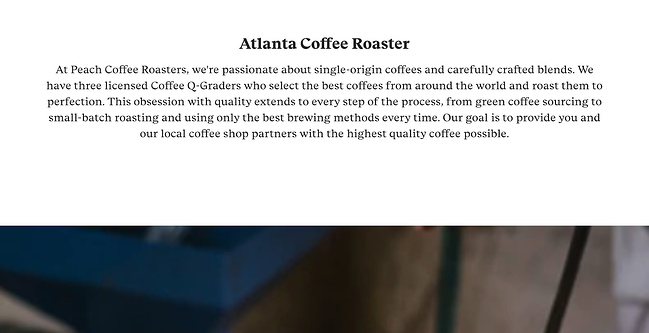 Image Source
6. Use keywords in page content.
Using targeted keywords in your content is an important part of your on-page SEO strategy.
Why? Because doing so signals to search engines that the page is actually about the keyword and should appear in the search results. I've heard from "experts" that you should use keywords anywhere from 4-6 to 10-12 times. My advice is to write naturally, but be careful to avoid black hat practices like keyword stuffing.
In other words, don't write something like this:
"we are Atlanta Coffee Roastersbest cCoffee Roasters in Atlanta, GeorgiaWhere to find it Locally roasted coffee in Atlanta Baked in our hand Coffee Shops Serving the Greater Atlanta Area. "
It's simply unreadable. Compare that to what's at your local coffee roasting company:
"At Peach Coffee Roasters, we are passionate about single-origin coffee and carefully crafted blends. We have three licensed coffee Q-Graders who select the best coffees from around the world and roast them to perfection. This This obsession with quality extends through every step of the process, from green coffee sourcing to small batch roasting, using only the best brewing methods every time."
7. Create a link to your website.
Once you've indicated your relevance to search engines through keywords, it's time to start the hard work: building inbound links to your site from authoritative sites in your industry or niche.
This is arguably one of the most important SEO steps you must take. The quantity and quality of links pointing to your website is very important for Google and other search engines to evaluate your ranking under different criteria. If people link to you, it means your website provides authoritative, trustworthy information on a topic.
For example, look at the backlinks HubSpot received in this Digital Trends article (anchor text: "Accumulate inbound links"):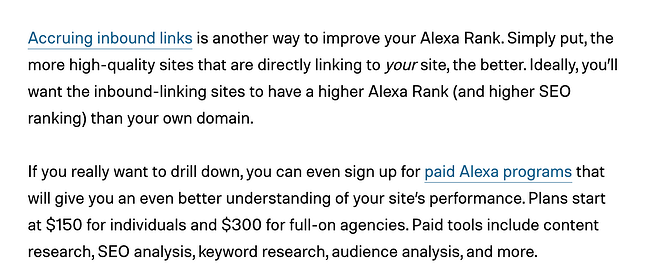 You should also link externally to websites related to your industry, which further demonstrates your relevance for that keyword.
8. Monitor your rankings.
Last but not least, it's time to check the results of your efforts. Give search engines some time to do their thing (from weeks to months), then go ahead and check your rankings to see what's going on and track your progress.
If you're just getting started with SEO, you can manually check this ranking by searching Google for your target keyword. We also recommend using Google Search Console to check your rankings for free. Since GSC can be limited in some ways, you can upgrade to the official SEO monitoring tool to keep track of the most relevant keywords and keep coming up with strategies to improve performance.
Likewise, you should monitor your Google PageRank. Google uses your Page Rank to measure how "important" your site is on the web. Having a higher page rank means you are more likely to be one of the top results for a search term.
Use free tools like Check Page Rank to estimate.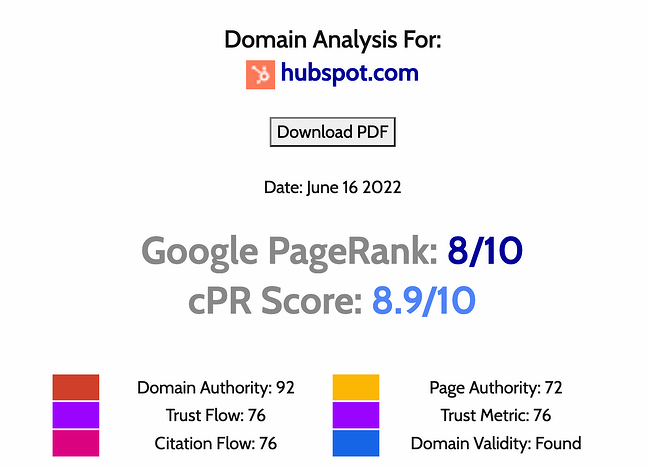 During the monitoring process, you should also rate your website. Use free tools like Site Scorer to evaluate your website's SEO performance.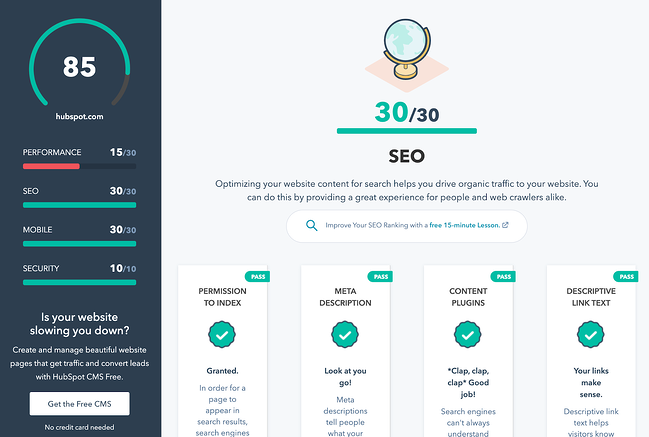 This SEO step-by-step tutorial is just the beginning
Don't let your learning stop here. With the steps above, you can start creating an effective SEO strategy, but keep in mind that SEO has countless moving parts that require attention, focus, and tenacity. This is why some companies have entire teams dedicated to their SEO efforts.
The good news is that you don't have to guess what's next. Use our starter pack to boost your SEO plan and increase your site's likelihood of ranking on the first page of SERPs.
Editor's Note: This article was originally published in May 2007 and has been updated for completeness.