In the US, only 49% of small businesses invest in search engine optimization (SEO). This means that more than half of them are leaving traffic, customers and revenue on the table for not improving their organic rankings on Google.
When you run a small business, especially a brick and mortar business, it can be difficult to conceptualize the buyer's journey into your business. While word of mouth remains a popular form of marketing, it's not the only way customers find you. Typically, they use Google searches to research businesses they plan to buy from long before they get to a store or website checkout page.
That's why it's important to improve your organic ranking on Google through SEO. The concept of SEO sounds intimidating, and there are many opinions on whether it's worth the effort. But when you look at SEO as a way to help customers before they buy, you'll find that its value pays dividends in the long run.
How to Improve Google Ranking
1. Update your Google Business Profile.
Google Business Profile is a free tool that helps customers find businesses online. The tool works with normal Google searches, but it also integrates with Google Maps so customers can find businesses on their way to their destination.
By verifying and updating your Google Business Profile, you can help your business stand out on search engine results pages (SERPs) and drive more traffic to your website or store. Here are the most important updates to your profile:
Add the correct address, phone number and hours of operation
Add your website URL
Include your social media profiles
Update images with new products, promotions and products
Add photos of your brick and mortar business locations and buildings
Each of these points helps potential clients make decisions about your business. They'll know how far (if at all) they need to travel, where they can find more information about your business, what your products and services are like, and they'll get updates on your latest promotions and sales information.
Here's an example of a Google Business Profile:

2. Familiarize yourself with ranking factors.
Google has identified four factors that its search algorithms consider when ranking content. These include:
word in query
Relevance and Usability of Pages
Source expertise
The location and settings of the searcher's Google account
While some of these factors are beyond your control as a business owner, you can create content with most of them in mind.
3. Optimize your existing content.
Optimizing existing content is often a faster and more efficient way to target new customers without investing in brand new content. If your business website includes a blog or even a simple landing page, you can update those pages to attract people who are looking for the products and services you sell.
So, how do you find those people? How do you know what they are looking for?
While you can't control the exact search terms that potential customers enter into the Google search bar, you can understand what users have searched for in the past and predict what they will search for in the future.
To target specific terms in a searcher's query, you first need to conduct keyword research on your business, industry, products, and services. You can use HubSpot's content strategy tool or paid tools like Ahrefs, Moz, or Semrush to get detailed, granular keyword data. There are also some free tools like Google Keyword Planner. To predict future search demand, you can use the free tool Google Trends.
Featured Resources: SEO Marketing Software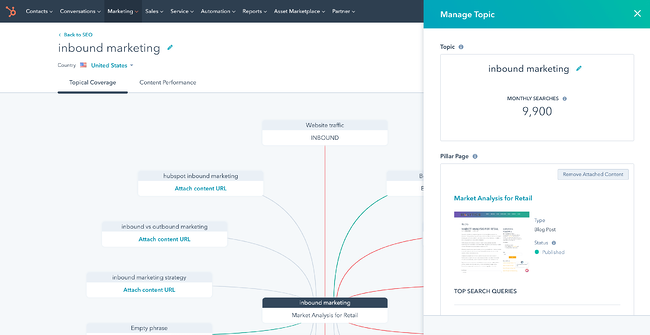 4. Identify content gaps.
The content gap is twofold. It might show up as a topic being explored or unexplored in your industry or niche, or it might be a stage in your customer journey that isn't already covered by content in your existing library.
Both types of content gaps are exciting opportunities to create new content that resonates with your audience and has the potential to generate revenue.
Using some of the same tools in the tips above, you can run a content audit to identify keywords that correspond to content gaps. This makes it easy to view them at a glance and incorporate them into your next blog post, product page, or even your homepage.
5. Include image alt text.
Whether on your website, social media profile, or Google business profile, images are a key part of improving your organic rankings on Google. Why? Because a simple (and often overlooked) field is called alt text.
To understand why alt text is so important, we have to think like a search engine. Search engines can't "see" images the way humans can, so they need another way to handle them. Alt-text is a text-based description of an image that lets search engines know what the image is about and how closely it relates to a related topic or keyword on the page.

Without alt text, it's nearly impossible for a search engine like Google to effectively identify and rank your images. As a result, you may miss out on extra traffic and customers who might have found your site through image packs or image searches.
6. Answer frequently asked questions.
If you have an FAQ section on your website, you've come a long way in improving your Google rankings. To make it even better, check out your FAQ page and Google the same question. What do you see?
If you own a local hair salon and one of your common questions is "What's the difference between balayage and ombre?" you might see this box in your SERPs:

The "People also asked" box is a great way to see other questions your customers might be curious about. You can add similar questions to your FAQ page, giving you more opportunities to improve your Google rankings.
7. Look at your competitors.
The last tip we have for improving your organic rankings on Google is to take a look at your competitors. However, we do not recommend that you copy your competitors. The purpose of looking at their keyword strategy using tools like Ahrefs, Moz or Semrush is to understand their content gaps (remember those before?)
By understanding that your customers are looking for topics that your competitors don't cover, you can fill in the gaps with your own content that takes ranking factors and keyword research into account.
Rank higher in Google SERPs
As a small business, you have to have multiple roles, and if you want to drive more traffic to your website and more business to your store, Google Master is one of them. Fortunately, you don't have to fully understand how search engines work to see your business on page 1 of Google. These tips are tried and true SEO fundamentals that can help your business gain more visibility from customers who are specifically looking for you.
Editor's Note: This article was originally published in December 2006 and has been updated for completeness.