When you're writing SEO-optimized content, how many keywords are enough? How much is too much? How did you know? What happens if Google and other search engines determine that your site is "stuffed" with keywords?
In our beginner's guide to keyword density, we'll cover the basics, dive into its importance, and provide functional formulas and simple tools to ensure your keyword strategy works as intended.
What is keyword density?
Keyword density – also known as keyword frequency – is the number of times a particular keyword appears on a web page compared to the total number of words. It is usually reported as a percentage or ratio; the higher the value, the more times your chosen keyword will appear on your page.
Why Keyword Density Matters
Keywords are a critical part of your SEO strategy.
In addition to relevant content and an optimized website design, ranking for the right keywords can help your website stand out from the crowd—and move closer to the top of search engine results pages (SERPs).
So it's no surprise that a lot of SEO advice is focused on keywords: doing research can help you choose and rank for the top-performing keywords in your market, increasing user engagement and increasing overall sales.
Why? Because keywords drive search. When users go looking for a product or service, they typically use keywords that reflect their general intent and expect relevant results from search engines.
While tools like Google now take into account factors such as geographic region and page
Authority – defined partly by the number of visitors to your page and partly by "dofollow" links from well-known websites linking back to your page – keywords are still a key factor in a website's success.
warn? You can't simply "stuff" as many keywords into your content and expect solid results.
This practice is called keyword stuffing, and it's a black hat SEO practice that can lead to penalties or even complete removal from the SERPs.
What is keyword stuffing?
Keyword stuffing is the practice of writing low-quality content with the same keywords with an above-average frequency. The purpose of keyword stuffing is to trick the search engine, namely Google, into ranking your page higher in the search engine results pages. This black hat strategy no longer works.
In the Wild West days of the first search engines, brands and SEO companies would write low-value content and stuff it with keywords and keyword tags, as well as links to similarly populated pages on the same site. Not surprisingly, visitors became frustrated and search engine providers realized they needed a better way.
Now, keyword stuffing has the opposite effect – search engines will penalize the page rank of sites that still opt for keyword stuffing.
By the Numbers: Keyword Density Formula
How do you calculate keyword density? The formula is simple: divide the number of times the keyword is used on the page by the total number of words on the page.
Here's a simple example: Your web page has 1,000 words and your keyword is used 10 times. This gives:
10 / 1000 = .001
Multiply this by 100 to get a percentage, in this case 1%.
There is another formula sometimes used to evaluate keyword usage: TF-IDF, which stands for "Term Frequency – Inverse Document Frequency". The idea here is to evaluate the frequency of a keyword on a particular page (TF) based on the number of times the word appears across multiple pages of your site (IDF). The results help determine how relevant your keyword is to a particular page.
Although TF is simple, it is easy to be pinned down by IDF. Here, the goal is to understand the rarity of your keyword across multiple documents. The IDF measure is between 0 and 1—the closer to 0, the more words appear on the page. The closer it is to 1, the more it appears on a single page and no other pages.
This is the "inverse" nature of the calculation: lower values ​​mean more keyword usage.
Consider this formula in practice. Applied to very common words like "the" or "but", the TD-IDF score will be close to zero. Applied to a specific keyword, the value should be closer to 1 – if not, you may need to rethink your keyword strategy.
What is good keyword density?
While there is no hard and fast rule about keyword density other than the always-relevant "don't use keyword stuff" advice, many SEOs recommend using about 1-2 keywords per 100 words of copy. This results in a keyword density of about 1-2%.
Your content may behave similarly in slightly more or less ways, but it is generally accepted that Google and other search engines respond well to a keyword density of around 0.5%.
It's also worth remembering the value of keyword variations – words and phrases that are similar but not identical to your main keyword. Say your website sells outdoor lighting solutions. While your highest value keyword for the SERPs is "outdoor lighting," stuffing as many pages as possible with as much content using this keyword as possible will reduce rather than improve overall SEO.
Instead, consider keyword variations; the terms are closure to your main keyword, but not exact copy. In the case of "outdoor lighting," variations like "garden lighting," "yard lighting," "deck lighting," or "landscape lighting" can help your page rank higher without breaking keyword stuffing rules.
Not sure which variants make the most sense for your website? Use the "Search Related" section at the bottom of the Google SERP as your primary keyword. Here's why: Google puts a lot of time and effort into understanding intent, so the "Related Searches" section will show you terms similar to your primary keywords.
Keyword Density Tool
While you can calculate keyword density yourself by calculating the total word count and keyword count per page on your site, this can quickly become time and resource consuming as your site expands and page volume increases.
The Keyword Density Tool helps simplify this process. Potential options include:
1. SEO Review Tool Keyword Density Checker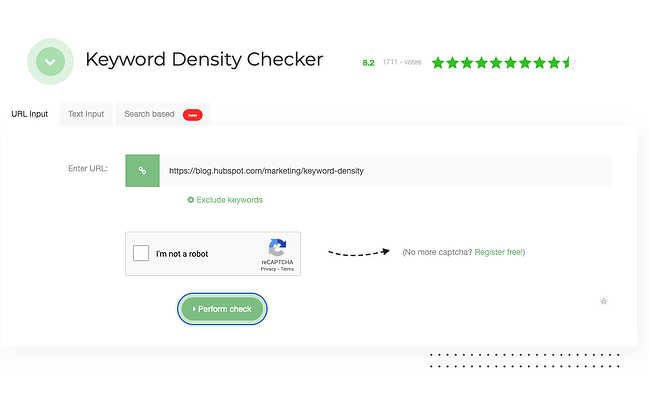 This free tool is browser-based – simply enter your website URL or page text and complete the "I'm not a robot" captcha to perform a keyword density check. While this tool doesn't provide an in-depth analysis of the other options on the list, it's a great way to understand your current keyword density.
why we like it
SEO Review Tool's Keyword Density Checker includes color warnings for unusually high-looking keywords, so you can easily see which keywords need to be cut. It also gives you a keyword breakdown by word count and allows you to exclude certain phrases.
2. SEOBook Keyword Density Analyzer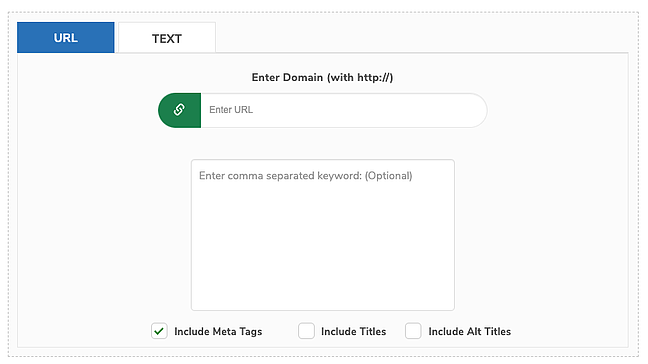 Similar to the tool above, the SEOBook Keyword Density Analyzer is free – but it does require an account to use. In addition to the basic keyword density report, this tool allows you to search Google for your target keyword, pull data on five top-ranking pages using the same keyword, and analyze them to see how your keywords stack up.
why we like it
The SEOBook Keyword Density Analyzer allows you to include meta information and exclude "stop words" that tend to appear frequently in text (like "does", "a", "the", etc.). You can also set a minimum word length. This enables you to include only words that meet certain character count criteria.
3. Copywritely Keyword Density Checker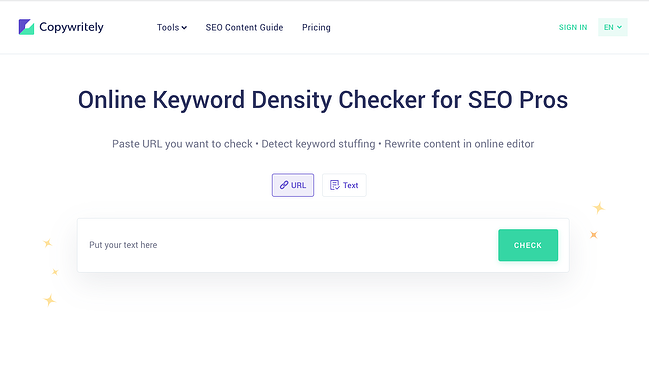 Copywritely's Keyword Density Checker displays your top keywords by density, along with frequently occurring color-coded terms. This tool is more limited than others because it doesn't offer an option to exclude stopwords or include meta descriptions. But it's a great starter tool.
why we like it
Copywritely's simplicity and user-friendliness make it a great choice if you're looking for a quick, at-a-glance keyword density check. You can then optionally sign up for a Copywritely account to check and correct errors.
4. On-Page SEO Checker by Semrush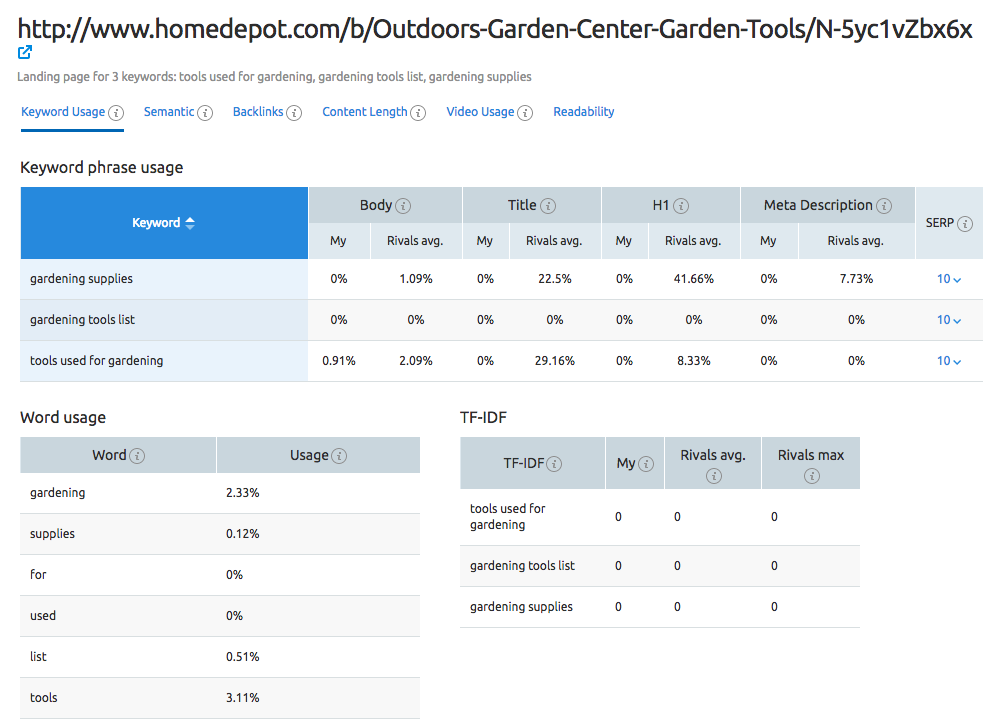 Semrush's powerful on-page SEO checker includes a keyword density checker named "Keyword Phrase Usage" in the tool. In addition to keyword density assessments, the tool includes automatic SEO checks and reports, title and metadata assessments, backlink detection tools, and in-depth website crawls, scans, and reports. It also helps you compare your keyword density to that of your competitors. It's really expensive, starting at $119.95/month.
why we like it
More than just a keyword density checker, Semrush is a powerful SEO tool that can help you with every aspect of on-page SEO, including competitive comparisons. You can find out how many times your competitors use certain keywords. You can then approach their performance levels by adhering to industry standards.
kingdom keywords
Looking to improve your SERP position and increase your website impact? Start with strong keywords.
warn? Keyword balance is the key to search success. By finding at scale and regularly evaluating the keyword density of specific pages and your website, you can improve your relevant SEO impact and avoid the ranking pitfalls of an overly dense keyword distribution.
Editor's Note: This article was originally published in December 2020 and has been updated for comprehensiveness.