Converting a prospect into a loyal customer is a multi-step process that requires the combined efforts of a cross-functional team. Thankfully, there are different types of technologies that can make tasks more organized and easier—like customer relationship management software (CRM) and marketing automation.
But it's not just about how easy it makes your job. When these two pieces of software work together, it can be a much more streamlined process that converts more leads into qualified leads faster and more efficiently.
More and more businesses see the value in integrating the two. In fact, 52% of marketers prioritize implementing a marketing automation platform that can be integrated into other solutions to enhance their marketing efforts.
In this article, we'll review the role of marketing automation and CRM software, and why they need each other to better help your business.
CRM and Marketing Automation
Before we dive into why marketing automation and CRM should be integrated, we need to understand their specific capabilities.
What is Marketing Automation Software?
Marketing automation software helps marketers promote and streamline content without manual application. This includes automatically distributing content and reporting analytics derived from how potential customers interact with them. It extracts data from when potential customers visit your website, open an email, fill out a form, or read a blog, and makes it easy for businesses to access the data to develop their strategy.
Ultimately, the goal is to simplify the process of leading, developing, and moving them to sales-qualified prospects. Essentially, it's all about lead generation and personalization.
Some of the best marketing automation software include HubSpot, MailChimp, and Marketo.
What is customer relationship management software?
On the other hand, customer relationship management (CRM) is software used by sales and service teams to manage their pipeline and lead qualification process. It historically tracks customer data, including dates and notes of phone conversations, past purchases, and email interactions during the buyer's journey.
Essentially, with this software, your salespeople have a complete picture of who a prospect is, their history with your company, and their journey to becoming a customer.
Best Marketing Automation CRM
HubSpot is one of the best choices for a CRM marketing automation tool, because HubSpot Marketing Center includes basic CRM functionality, so you get two software in one.
For seamless CRM integration, users can manage their sales and marketing strategies simultaneously in HubSpot Marketing Center and Advanced Sales Center for more sophisticated marketing automation and CRM capabilities.
If you're interested in using HubSpot for your marketing automation needs, but need some guidance when evaluating your marketing automation strategy, use our Simple Guide to Smart Automation.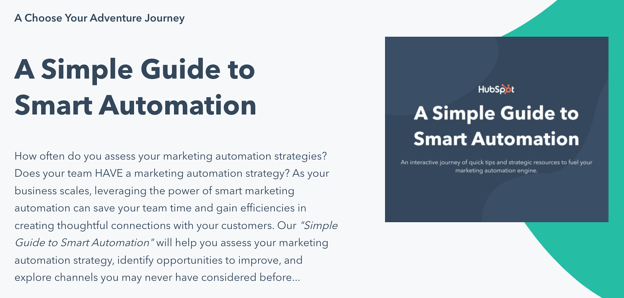 free download
Now that we've discussed what each software does and how they can help your team, we can tackle one big problem, "Why do these need to work together?"
CRM and Marketing Automation: Why You Need Both
When marketing automation and CRM software work together, they can provide your customers with a seamless journey from visitor to customer. Integrating the two software will give your reps a complete picture of how prospects are interacting with your company. Your sales reps will know the marketing history of their prospects.
Let's go through a concrete example to illustrate how these two pieces of software work together.
Marketing Automation and CRM Integration Example
First, let's say marketers drive leads through blog posts like this one.
Maybe they found the content insightful and decided to download the lead magnet and fill out the form. Once that happens, the marketing team starts nurturing leads through email marketing campaigns.
These actions evolve this reader into a Marketing Qualified Lead (MQL). After interacting with more content for a while, when a prospect requests a product demo, they become a Sales Qualified Lead (SQL). Once this happens, sales reps in charge of demos use marketing automation and CRM software to gather information about their interactions with the company.
Salespeople can then see which offers have been downloaded by potential customers, which blogs they have read, who they are and what company they work for, and use it in their demo call strategy. So now they're ready to answer the right questions and personalize sales calls to better connect with qualified prospects and nurture them to sell.
So we've gotten to the prospect all the way through the funnel, and now they've made a purchase. Read on to learn how CRM and marketing automation contributed to this success.
The Benefits of Integrating CRM with Marketing Automation
Based on the example, the integration of CRM and marketing automation software can:
Better visibility for marketing and sales teams
This allows both teams to know where they are in the process and what next steps they should take in the future.
Shorten the sales process
If marketing automation is not used in conjunction with CRM, it may take longer to find leads.Both software make the process of attracting potential customers through the sales funnel
Provide a consistent message
When it comes to customer-facing communications, marketing and sales professionals who influence the customer experience can be adjusted. Providing consistent messaging is less of a challenge when you have all the contextual information available in cross-functional software.
Unify your data management
Because the software already works together, salespeople do not have to specifically request customer profile information, but can easily prepare sales based on unified data management.
Strengthen pipeline management
Both teams in the process have a process that involves observing and tracking a lead's step-by-step progress.
Minimize human error
If you may have an outdated system or process for lead tracking, it could be a manual process with human error and leads slipping through the cracks. You can't scale such a system.
Your marketing automation and CRM should be connected so that your sales team has the right tools to close deals.
Combine your CRM and marketing automation efforts
Integrating these systems should help you understand gaps and friction points in your marketing and sales process. It can help you discover why leads are not moving from MQL to SQL or why leads are not closing. CRM and marketing automation can make your marketing team, sales force, and customers happier by streamlining your marketing and sales processes.
Editor's Note: This article was originally published in March 2020 and has been updated for comprehensiveness.