Every company needs a strong marketing strategy—even nonprofits.
However, most nonprofits have not considered investing in search engine optimization (SEO), even though it may be one of the industries with the highest ROI.
SEO, specifically for nonprofits, is the process of optimizing your website to increase organic visibility when people search for topics such as education, fundraising opportunities, volunteer opportunities, or other aspects that advance your mission.
Let's dive into what SEO is, how it works, and SEO best practices for nonprofits.
What is search engine optimization?
SEO, which stands for Search Engine Optimization, is the process of organically driving users from search engines to your website. This means you don't have to pay for ads, use social media, or place sponsored content to attract new users.
The goal of SEO is to help your website rank as high as possible for targeted keywords and phrases related to your website and mission.
For example, if your nonprofit is dedicated to wildlife conservation, you might want to rank organically for terms related to wildlife conservation. The higher your website or page ranks in search engine results pages (SERPs), the more likely users are to see and click on it. Research shows that the higher your ranking, the higher your average click-through rate (CTR).
If you want a comprehensive look at SEO, check out The Ultimate Guide to SEO in 2022.
How does search engine optimization work?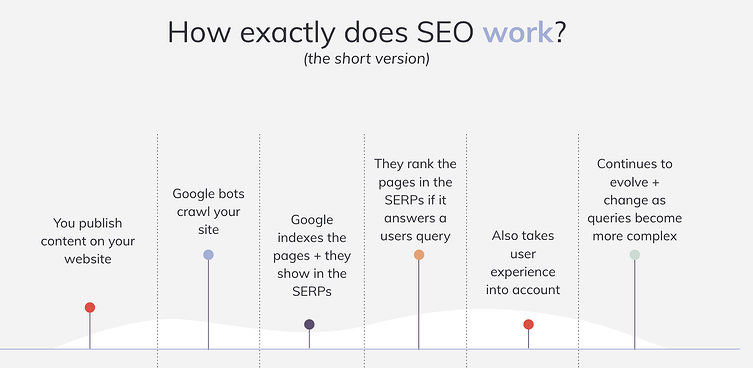 Google and other search engines consider hundreds of factors when ranking your website or content. These factors come from three different pillars of SEO, as follows:
Technical optimization
page optimization
Off-site optimization
Search engines are powered by people when they have queries and search for answers. Search engines use algorithms to decide which content and websites are best suited for answers to queries. Search engines take three steps when evaluating a website: crawling the website, indexing the website, and finally ranking the website.
Crawling, also known as the discovery phase, happens first and then the search engine decides whether the page should be indexed on the search engine results page or shared and available for users to view and find. Finally, algorithms rank content in search results, which is how users find your website or webpage.
SEO for Nonprofits
So why should nonprofits invest in SEO? Well, SEO is just as important to nonprofits as it is to any other company. This is an affordable and effective long-term marketing strategy.
The investments you make in SEO today may take a while to pay off, but they will continue to do so for years to come. Due to various factors such as keyword difficulty, competition, domain age, and trust from search engines and users, it can take a while for SEO to see results. In general, it can take four to six months to see some changes in rankings and site health.
Increasing your nonprofit's organic visibility can also increase awareness of the mission you stand for, while increasing your brand awareness. Using SEO will help your page rise in search engine rankings, creating higher click-through rates, more impressions, and overall more traffic.
How to measure SEO success
Depending on your goals and what you want to accomplish, you may need to measure and evaluate success in several areas, such as:
Key words
organic traffic
market share compared to competitors
convert
backlinks
Page Rank
Some of your nonprofit's goals might include getting more priority keywords into the top 10, increasing organic traffic to specific pages, or increasing organic conversions.
Search Engine Optimization Best Practices for Nonprofits
If you're confused or intimidated by the idea of ​​being discovered online and creating a successful SEO strategy, we've got you covered.
Here are five best SEO practices to focus on for your nonprofit this year.
1. Keyword research should create your content strategy.
It's important to understand what your potential and ideal customers are searching for and what their journey is. Search engine rankings are determined by algorithms that use many factors to determine how well a web page answers a query.
Unfortunately, it's not as easy as adding keywords to your content, so here are some things to consider.
search intent
A query or keyword can have multiple meanings, depending on the person or where they are in the user journey. They may be looking for more information, directions, or making a purchase or donation, each of which requires a different query. It's important to make sure the right keywords match the right content.
Related Keywords
If you're a nonprofit working with the homeless community, a long-tail keyword you might want to focus on might be "how to help the homeless community." Knowing this, you can create content and resources that drive users to your website. You should avoid keywords that don't really represent your brand or what you offer.
Long tail keywords are more specific keywords or phrases, usually longer than general keywords. An example of a long-tail keyword might be "light blue beach hat," while an example of a short-tail keyword might be "hat" or "beach hat." Short-tail keywords are generally harder to rank for, but have more traffic. Long-tail keywords have less traffic but higher conversion rates, which is ideal for most nonprofits.
Additional thoughts:
It is often easier to target long-tail keywords (a phrase vs. a term), which leads to more qualified traffic
Target users with different keywords in each part of the sales funnel
keyword research needs time and is also evolving
Google offers a great free keyword research tool that can also be used for SEO. If you're looking for a more specific SEO platform, MOZ and SEMRush are two great platforms that both offer nonprofit pricing.
2. Create quality content.
Content will always be one of the most important ranking factors. Not only is it crucial to have SEO-optimized content, but quality is also important. Google wants to ensure that the content you publish meets their EAT standards.
The concept of EAT, which stands for Professionalism, authority and trustworthiness, is considered an SEO best practice when creating content. These factors help Google avoid sharing and providing inaccurate or misleading information. You can follow these factors from Google by:
Update old content to make sure it is related
make sure the content is precise
allow expert or other writers to create content for you
Together with EAT, make sure your content follows best page practices. This includes focusing on primary keywords, adding metadata, using appropriate titles, adding alt text (ALT text) to images, using internal links, and more.
3. Make sure your site is mobile-friendly.
By 2022, the majority of users across all industries use mobile phones rather than desktop computers.
Additionally, Google crawls sites using the Google Mobile Robot to ensure your site is mobile-friendly. This means your website can shrink and fit on any screen, while still allowing users to access your content as easily as they do on a desktop.
Mobile friendliness is a ranking signal in Google and Bing algorithms when users search on mobile devices. If your site is mobile-friendly, it will often rank higher than sites that aren't mobile-friendly.
There are several tools you can use to test the mobile-friendliness of your website: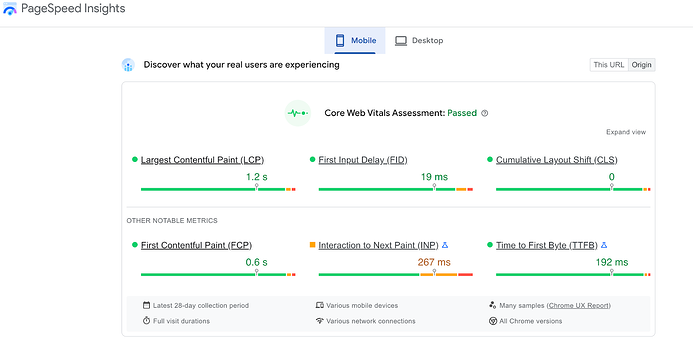 Google results via Page Speed ​​Insights
4. Link building is critical to building brand awareness.
Due to a lack of overall brand awareness and organic awareness, nonprofits can struggle to get donations. Link building relies on creating authoritative content that other sites want to link share and link back to. A good example is making your annual report shareable for others to view.
One strategy to consider is to reach out to partners or sponsors to see if they will link back to you in their website and content. This is especially important for pages you want to drive traffic to.
5. For most nonprofits, local SEO is very relevant.
Local SEO can be very beneficial for nonprofits because it can help people attend fundraisers and even attract volunteers. For example, if you search for "food trucks near me" on Google, a local listing will pop up. This is because they focus on local SEO strategies by leveraging their Google business profile.
Google Places for Business allows you to collect reviews, add images and videos, and keep your information up-to-date for users. You can also add FAQs with answers for users to view. All of this helps the organization top the Google listings for this query.
Nonprofit SEO Case Study
Finally, let's explore how two nonprofits — diaTribe and CreakyJoints — excel at using SEO.
First, diaTribe, a diabetes organization that aims to provide education and resources for people with diabetes, used SEO strategies to reach new audiences during the pandemic.
The nonprofit focuses on less competitive keywords, and we help the organization leverage highly relevant topics based on keyword research data.
As a result, the organization hit all of their website traffic and subscriber goals – helping them grow Email lists grew 28% year-over-year, and its website traffic grew 15% year-over-year.
Next, Media Cause started in August 2018 with CreakyJoints, a leading organization that provides support, education, advocacy and research for people with arthritis and rheumatism, to increase organic search traffic.
We help CreakyJoints by monitoring and troubleshooting SEO-related issues, optimizing existing pages for the Google search crawler, and providing content recommendations based on keyword research After just five months, their monthly search traffic quadrupled.
Today, CreakyJoints has 4x the content of the past. This means more people with arthritis and chronic pain are learning how to better navigate their patient journey, including understanding the long-term effects of medications, safe and effective ways to manage symptoms, and how to live healthy and capable lives . to the creaking joints.
Investing in an SEO strategy and working on it over time will pay off hugely for your nonprofit and be cost-effective in the long run. While this can take up to six months, you'll see an increase in organic and qualified traffic that will help increase your mission's visibility and create better engagement.
By implementing the tips above or partnering with an agency dedicated to promoting your mission, you'll convert users and help them engage you.