The new Yamaha MT-09, introduced last November, is now available in two new colors, Cyan Storm and Tech Black. The price remains the same as last year's launch at RM54,998, excluding insurance and road tax.
Debuting in 2020, the new MT-09 features a number of changes from the previous model, the main ones being cosmetic, with more distinctive LED headlights and cleaner taillights. Behind the body panels, Yamaha has also adopted a new stronger aluminum frame for more stability and dynamic driving characteristics.
The engine is the same as the Tracer 9 2021, an 890 cc three-cylinder that produces 119 hp at 10,000 rpm and 93 Nm of torque at 7,000 rpm. In addition to more power than the previous model, the engine has also been upgraded to meet Euro 5 emissions standards, while the fuel nozzles have been improved to provide more fuel economy.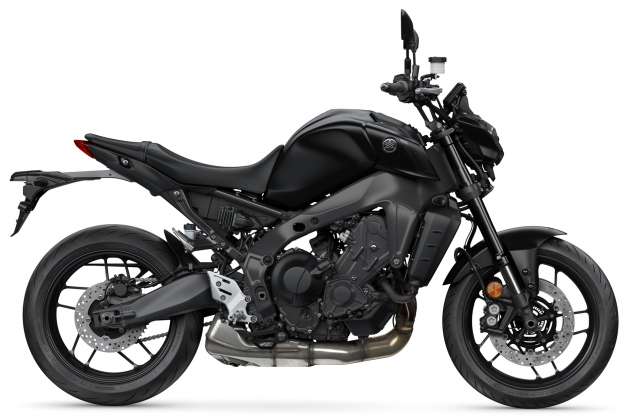 The transmission is a six-speed unit, with an A&S-style clutch retuned to match the new engine power.Then, the shifter quick shifter The standard features of this motorcycle have also been enhanced to provide faster and smoother up and down shifts.
In front of the rider is now an all-new 3.5-inch color TFT display panel that displays various information, including gear position, and can control its operation using the buttons to the left of the handlebar.
The electronic improvements don't stop there, as the 2021 MT-09 is now equipped with a 6-axis Inertial Measurement Unit (IMU) that provides the input control system (LIF) for the traction control system (three modules), slip control system (SCS), front wheel lift and Brake Control System (BC).
Suspension MT-09 2021 still in use fork 41mm too single shock It's adjustable, but it's been retuned to fit the new chassis as well as the swingarm.On the brake side, at the front it now uses the main pump radial Oil pressure is transmitted to a set of four-piston calipers and 298mm discs. The rear uses 245mm discs and single-piston calipers.
If you look closely, the 17-inch rim design of this MT-09 is also different. Not only the design, it's also 700 grams lighter, while improving the motorcycle's handling and fuel efficiency. The tires measure 120/70 in the front and 180/55 in the rear.
Other accessories on the MT-09 2021 are a 14-liter fuel tank with a gross weight of 189kg, a seat height of 825mm and a ground clearance of 140mm. The new model's wheelbase has also grown by 30mm to 1,430mm.